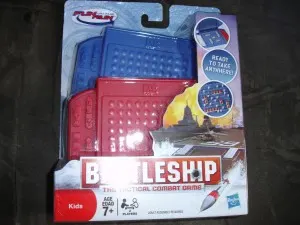 If you are like us, the summer usually means more trips out and about. These can be short, frequent trips or longer road trips. Although my daughter is just a baby, I remember how boring long car trips were when I was a kid. Sometimes I liked reading, but motion sickness often took over…
But games are always fun! Hasbro has several classic games (and newer ones too) scaled down for travel in their Fun on the Run series of travel games! I received the classic BattleShip.
The Fun on the Run version is basically the same, just made perfect for traveling. There are two cases that hold in all the pieces – ships and markers. The white markers keep track of your strikes and red markers keep track of the hits on your battleships. The space is smaller on the travel size, but it is still lots of fun.
This is a great way to take Battleship along on a trip by car, bus, or plane. It would also be a good choice for a camping trip since the game cases don't take up a lot of space and pack nicely. Even at our house, it's nice to use this set because we don't need any dedicated table space to play.
Games that are easy to pick up and play are great options for the summer. Next month we have about a three hour car ride ahead of us with our nephews. This will help keep them occupied!
We love games in our house and portable games are always appreciated!
SHARE SWEET MOMENTS OF FAMILY FUN

Hasbro and Hershey's Kisses Chocolates have teamed up to make your Family Game Nights extra special and extra sweet with HERSHEY'S KISSES Brand Milk Chocolates. Visit KissesFamilyGameNight.com for information about how you can share sweet moments of family fun and enter to win a $10,000 family room makeover! You can also enter to win daily prizes, such as Hasbro games for your next Family Game Night or coupons for free 12 oz. bags of HERSHEY'S KISSES Brand Milk Chocolates. You can also play an online version of Hasbro's cheetah fast card game, Ratuki. Once you start playing, you won't want to stop!
Giveaway over
_____
** FTC Disclosure: I received the product(s) mentioned above free of charge by the company or PR representative in order to conduct an honest review. I was not compensated in any other way for this post. The thoughts, experiences, and opinions included are entirely my own and may differ from that of others. I am not liable for any issues you may incur from use of said product(s). See full disclosure information. If you have any questions you can contact me or leave a comment.