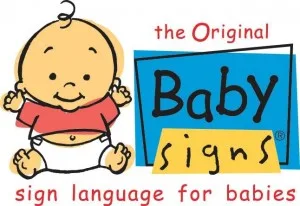 Although I can't wait for Rissa to start talking and she has started to babble more, I know it is going to be quite awhile before we can effectively communicate with each other – verbally, at least. I've been pretty interested in the idea of baby sign language but have been at a loss as to where to start. My husband was open to the idea when I brought it up, but we still had to laugh about the portrayal of it in the movie Meet the Parents. All joking aside, I knew our communication (or lack thereof) was already a cause for frustration at times – for her AND me – I could only imagine how this would increase.
Not really knowing how or where to start, I did what many of do now: I searched online for information! In doing so, I came across Baby Signs, the original sign language program for babies. I was thrilled when they agreed to work with me on a review!
I am impressed with just how complete the starter kit is!
A program book
4 board books
2 DVDs
A quick reference with magnets
I put the quick flip reference list on the side of the fridge. It really is a nice cheat sheet!
One of the first things I wondered about was when to start signing with Riss. So, I turned to the program guide right away. It provides information about the program, how they know signing is good for babies and why the program is popular. The intro on the DVD also talks about a study they conducted with babies who were taught signs and babies that weren't in order to compare their verbal milestones. They learned it doesn't hinder learning to talk and can actually help them learn to talk verbally!
Baby Signs was developed by Dr. Linda Acredolo and Dr. Susan Goodwyn who learned from their own children! They took note of patterns in how babies and toddlers gestured at objects. They made a good point – we teach babies to wave bye-bye. That's a sign!
Anyway! So part of the guide talks about when to start signing. They state there is no perfect time to start and that any time is good. I first thought I might be too early or too late, but I was reassured that we're just fine! They say there are three different time frames to consider and determine what works best for you.
Birth to 8 months – Practice showing signs, exposing them so they are learning before they are able to sign back
8 to 12 months – Are closer to age where they may begin signing back
12+ months – Can practice together and sign for words they don't know yet
Rissa is only six and a half months, so I think now is a good time to start. I need to learn them just as much as I need to teach her! The fun thing I learned from the kit though is that your baby may alter the sign or make up their own. This is fine! The DVD demonstrates 100 different signs, plus the other DVD has some signs that tend to be favorites of babies. The board books also highlight certain signs like Meal Time.
My favorite part of the program DVD? It's seeing all the pictures of babies and toddlers signing! I also loved the cute story about two little ones signing to each other!
Conclusion: I really feel like signing is going to be fun and easier than I thought. This starter kit is a big help to us as we get going. I'll be sure to let you know when Rissa starts signing back!
** Buy! **
You can purchase a variety of products to help you communicate before your little one has the verbal ability to do so, including potty training/learning. The Baby Signs Complete Starter Kit is on Amazon (affiliate link).
Giveaway over
_____
** FTC Disclosure: I received the product(s) mentioned above free of charge by the company or PR representative in order to conduct an honest review. I was not compensated in any other way for this post. The thoughts, experiences, and opinions included are entirely my own and may differ from that of others. I am not liable for any issues you may incur from use of said product(s). See full disclosure information. If you have any questions you can contact me or leave a comment.