INGREDIENTS:
6 cups all-natural rice cereal
4 cups sugar-free/natural miniature marshmallows
4 tbsp margarine
2 boxes of FruitaBü Fruit Rolls
Raisins or sugar-free chocolate chips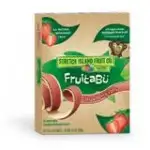 DIRECTIONS
In a small saucepan, melt the marshmallows with the margarine over low heat. Add rice cereal and stir to coat.
Pour the mixture onto a lined baking sheet and let cool. Spray your hands with nonstick cooking spray, and form the rice cereal mixture into desired mummy shapes.
Wrap the rice cereal mummies with FruitaBü Fruit Rolls and garnish with raisins for eyes. Enjoy!
______
Receipe provided by Stretch Island Fruit Co & Green Halloween. I received samples of Fruitabu, but was not compensated in any other way.