Disclosure: This shop has been compensated by Collective Bias, Inc. and its advertiser. All opinions are mine alone. #BirthdaysMadeBrighter #CollectiveBias
There are plenty of reasons to celebrate summer, but birthday parties are one of the best. Near the end of the school year, my daughter received an invitation to a July birthday party. She's so excited and can't wait to go. I love finding simple ways to make kids feel extra special, so I had fun personalizing her friend's gift bag.
This gift bag tutorial is perfect whether you are attending or planning a summer birthday party. It's a great way to add a special touch to your child's present plus make it obvious where guests should drop off their gifts as they arrive. You can apply the same tips to make party favors with smaller gift bags.
You will also find a tutorial to make colorful party decor that can do double duty as centerpieces and party favors. Either way, I got you covered!
Easy Ways to Make Gift Bags Feel Extra Special
Over the weekend I headed to Meijer to pick up a few groceries, the birthday present, and the rest of the party supplies I needed. Since I'm not actually planning this party, I didn't need to pick a theme. However, as I browsed the American Greetings party supplies, I was drawn to the fun and colorful paint splatter cups and plates.
So, I grabbed them, put them in my cart and then focused on how to make the birthday present look fabulous.
The first step was to find the perfect birthday card. Meijer has a variety of American Greetings birthday cards for kids. There are general cards, milestone cards (such as 6th birthday), and they have cards featuring popular licensed characters.
I spent time browsing the cards and picked out three because it's always smart to have a couple blank birthday cards on hand! I will admit, it was hard for me to narrow it down to one because they were all a good fit for my daughter's friend.
After picking out the cards, I grabbed a few solid color gift bags, bows, stickers, and a big pack of tissue paper in assorted rainbow colors. (My husband laughs because I almost always seem to misplace my tissue paper supply when I need it for a gift. So I'm always buying more. I shouldn't misplace this one though!)
I used to work in a gift shop and one of my favorite job duties was wrapping presents. I'll share a couple tips for gift bags with you:
Try to use two different colors of tissue paper.
Place your items inside the bag, then take one corner of tissue paper and tuck it under the present.
Arrange the paper around the sides of the gift.
Repeat on the other side. Keep the tissue paper stick straight up out the top of the gift bag.
My daughter came home after I was done making the gift bag and centerpieces. She took one look and her eyes got big, "Wow! Did you make these, Mom?"
They made her happy, so these are kid-approved!
Easy Birthday Gift Bag Tutorial
Birthday cards often get lost inside of gift bags, so why not make them part of the bag? I recommend signing the card first, if possible.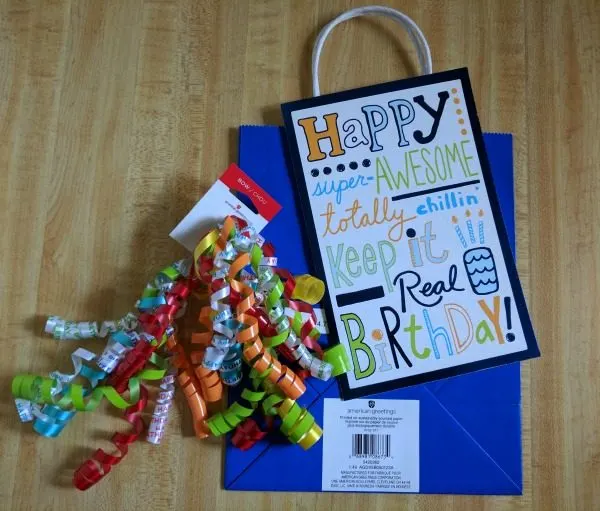 Materials:
American Greetings Birthday Card
Gift bag
2 sheets of tissue paper
Stickers
Glue
Directions: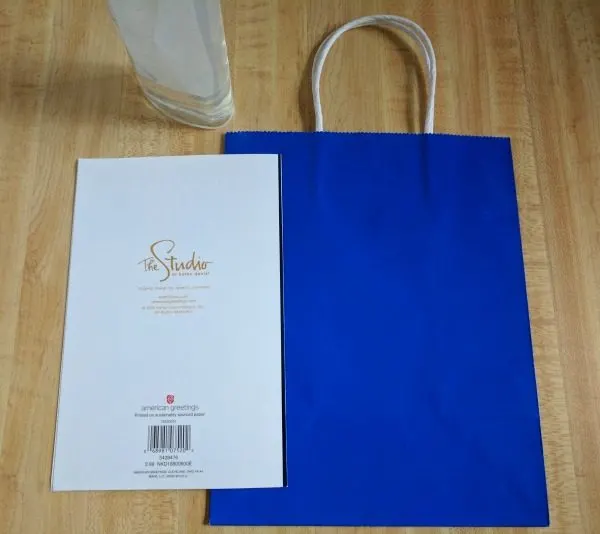 Step one: Apply glue to the back of the card and glue it to the gift bag. Firmly press it in place then let it dry for a little bit.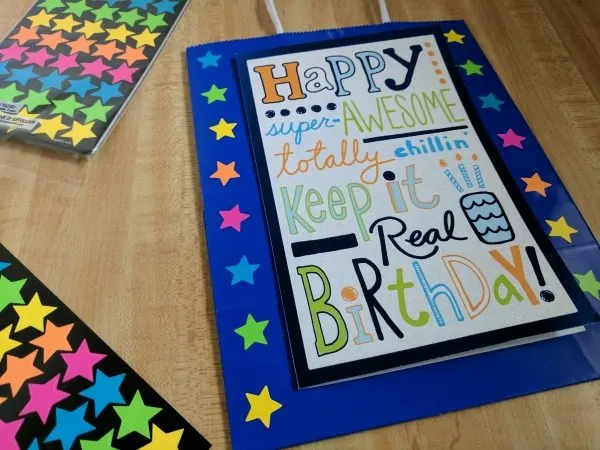 Step two: Apply stickers. You could also draw on the bag with markers, cut shapes and glue them on, or anything else you want to add.
Step three: Pick two sheets of tissue paper with colors that coordinate with the card. This will help pull it all together.
Step four: Place gift items inside the bag and arrange the tissue paper around it.
Step five: Tie a sprig of ribbons in matching colors to the handle. It's more about the decoration and less about keeping the bag closed. I purchased a bow and carefully tied it around the handle. You could also cut and curl your own ribbon.
If you don't like the way the card is slightly open, you can use a little piece of tape or a sticker to keep it closed.
Easy Birthday Party Favors Tutorial
These simple centerpieces brighten up the table and double as party favors. My kids are always asking if they can take home various birthday party decor so why not have those pretty decorations do double duty?
Materials:
American Greetings party plates
Party cups
Tissue paper (multiple sheets in assorted colors)
Large straws or craft sticks
Party favors
Directions:
Pick at least two tissue paper colors that coordinate with the plates and cups. You can mix it up – they don't all have to be the same. You can even skip the tissue paper and just glue or staple the party plates together if you want!
Tip: Cut and fold both colors at the same time so they are about the same size.
Cut about six sections of each sheet roughly into squares. Bunch and fluff them, then glue to the back of one plate. Continue all the way around the plate. Arrange the tissue paper how you want it, then attach a large straw (glue, tape, or staple) or craft stick (glue or tape) to the bottom of the plate. Put glue on the back of another plate and position it on the tissue paper. Hold in place for a few seconds and let it dry.
Another option is to cut a rectangular section of tissue paper. Fold them like an accordion. Tie, staple, or tape the middle, then fold in half. Cut the ends at an angle to give it a point. Fan them out and glue the edges together. Repeat if you want to make a complete circular design. Apply glue to the back of the plate and carefully press the tissue paper in place.
I chose to use brightly colored candy to help fill the cups. I didn't want to fill the entire cup with candy though, so you can add other party favors in the cup too. Or, ball up half a sheet of tissue paper and put it on the bottom of the cup, then cover with the candy. It makes the cup look full without giving the kids too many sweets!
I hope these ideas on how to make gift bags feel extra special and party favor centerpieces provide inspiration for your next summer birthday celebration! I love how easy it is to get party supplies from Meijer whether you are attending a birthday party or planning one.