While I was in Los Angeles I had the privilege of watching Finding Nemo in 3D. But before we went out to the big blue ocean, we were treated to an epic bathtub party with the lovable Bonnie and some familiar Toy Story characters. I've always had a soft spot for poor ol' Rex. He's a sweetheart but always so nervous about things going wrong. So much so that the other toys think he's a big party pooper.
That is… until Bonnie takes him for a dip in the bathtub.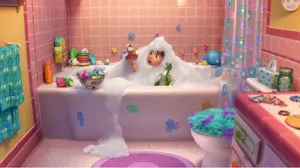 We get to see a new side of Rex. A very FUN side of Rex. There were a few minor things the toys did to help make their bubble dance party awesome that I hope my daughter never does in our tub, but overall it was funny and creative. I'll never look at bathtoys the same way again!
At our dinner reception to celebrate Partysaurus Rex and Finding Nemo 3D, we were delighted by the fun decor and attempt to get a pool toy party started.
Disney*Pixar's brand-new Toy Story Toon, PARTYSAURUS REX, will play in theaters before the start of FINDING NEMO 3D which swims back into theaters starting September 14th. This adorable short is directed by Mark Walsh, produced by Kim Adam, and is the third installment of Toy Story Toons.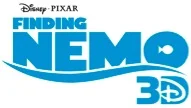 It has been awhile since I watched Finding Nemo in 2D, but I haven't forgotten the story.
Or the great quotable lines.
Or the address: P. Sherman 42 Wallaby Way Sidney.
I will say that the plight of Nemo and his father resonates with me more strongly after having children of my own.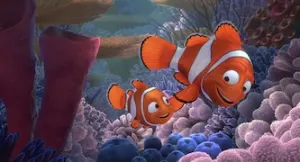 I won't go into analyzing the film or the take away messages since I'm sure most of you are familiar with the movie. What you want to know is if you should go see it in 3D, right?
I always thought this movie was beautiful, so I was very curious how it would look in 3D. My initial impression was kind of meh. I even slid my 3D glasses down to peer over them at the screen, wondering if they were broken or something. As the movie went along, I started to recognize more depth to the scenes. I've noticed that Disney/Pixar 3D movies tend to have a more subtle depth rather than springing out at the audience.
Other small details made me feel more immersed in their surroundings like noticing the floating particles in the water. I felt the 3D effects enhanced the beauty of this film and drew me in a bit more.
If you want to enjoy it and admire it, go see it.
If you want your little one to go to their first 3D movie without getting scared by things leaping out at them, go see it.
If you are a Nemo fan, go see it.
If you are expecting fish to leap out at you, sharks to graze your forehead and splashes to make you flinch, you won't find those.
Are you going to see Finding Nemo in 3D?
But wait! There's more!
Finding Nemo will make its way onto 2D and 3D Blu-ray editions so you can take the fishyfishy home.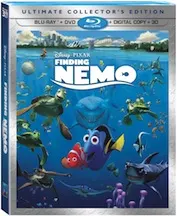 The home entertainment release of "Finding Nemo" will be available this holiday season (look for it 12/4/12!) as follows:
· 5-Disc Blu-ray 3D Ultimate Collector's Edition (2 Blu-ray 2D + 1 Blu-ray 3D + 1 DVD + 1 Digital Copy) = Suggested Retail Price: $49.99 U.S./$56.99 Canada
· 3-Disc Blu-ray/DVD Combo Pack (2 Blu-ray 2D + 1 DVD) = Suggested Retail Price: $39.99 U.S./$46.99 Canada
· 3D Digital = Suggested Retail Price: $25.00 U.S.
· High-Definition Digital = Suggested Retail Price: $19.50 U.S.
You can pre-order Finding Nemo on Blu-ray today through Amazon!
______
Disclosure: I attended a screening of Finding Nemo 3D while attending an expenses paid press trip courtesy of Disney. No other compensation was provided. All thoughts shared are my own.