My daughter loves Yo Gabba Gabba so that was the theme for her second birthday party. Sadly I didn't get to go as "all out" as I would have liked (it's exhausting throwing a toddler birthday party when you're eight months pregnant!). I didn't even have a chance to take pictures! I did make a Brobee cake and a Dazzleberry Lemonade recipe though.
Well, my version of Dazzle berry lemonade, anyway. I was going to make it more from scratch, but opted for the quicker route. It tasted pretty good and our guests liked it, so that's a plus! Anyway, dazzleberry lemonade is featured in the Yo Gabba Gabba episode "Muno's Family" which was Rissa's favorite episode for awhile.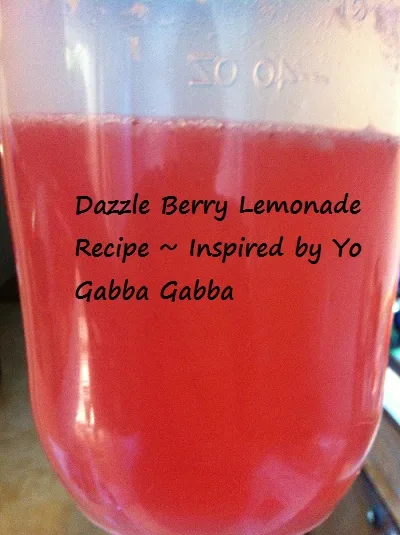 Dazzle Berry Lemonade Recipe
Ingredients:
1 can Pink Lemonade frozen concentrate (thawed)
Sierra Mist
10 oz chopped strawberries
Directions:
1. Thaw pink lemonade concentrate and strawberries (if you bought frozen like I did).
2. Puree strawberries in blender. Strain to remove seeds (optional – didn't work very well for me)
3. Pour pink lemonade concentrate into a pitcher. (Do not add water)
4. Pour 2-4 cans (using the concentrate can to measure – no water added unless you want to try it that way) of Sierra Mist into the pitcher.
5. Add pureed strawberries.
6. Stir to mix well and chill before serving.
It has a thicker, almost slushy like texture. My first batch I used only 2 cans of Sierra Mist. My second batch I didn't have anymore strawberries, so I just mixed 4 cans of Sierra Mist with one can of pink lemonade concentrate. I essentially served two different versions, and both were well received!