Do you love holiday baking? If you are looking for a new recipe to try, this collection of tempting holiday cookie and bar recipes is sure to make your taste buds sing!
I love sweets, but cookies and bars are probably my favorites, especially during the holidays. Oh so many delicious flavors which makes it near impossible for me to have any self-control. I mean, I love cookies all year round, but it seems like people go all out baking a variety yummy treats this time of year.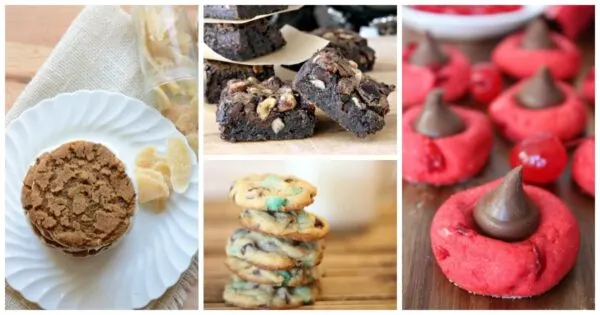 Holiday Cookies and Bars Recipes
I collected a few of my favorite cookies and bars like snickerdoodles, peanut butter blossoms, magic coconut bars, and classic sugar cookies. There were plenty of tasty treats I haven't sampled yet, but the pictures made me want to lick my screen. So, I collected those recipes too. Some are easy, others are more complicated. I really should join a local cookie exchange sometime!
8 Bar Recipes for Christmas
Unreal Cake Cookie Bars from Darcy & Brian
Christmas Chocolate Layer Bars from The Kitchen is my Playground
Gluten Free Peppermint 7 Layer Bars from Fearless Dining
Browned Butter Cream Cheese Chocolate Chunk Bars from All in All
Dark Chocolate Hazelnut Pie Bars from Snappy Gourmet
Skinny Cranberry Bliss Bars from Skinny Taste
Red Velvet Sugar Cookie Bars from Recipe Critic
Coconut Peanut Butter Magic Cake Bars from Averie Cooks
28 Cookie Recipes for Christmas
We hope you found a few new cookie and bar recipes to add to your holiday baking. If you feel overwhelmed deciding which one to make, pick one or two to start with. If you have additional time, then pick another one. Otherwise, be sure to save this post and try a couple new cookie recipes and bar recipes each year!
What's your favorite holiday cookie or bar recipe?