My daughter was excited to watch monkeys on the television at home. She had a much better view with DisneyNature's Chimpanzee than she gets at the zoo. She giggled in delight at Oscar's antics and asked what happened when his mama didn't return. I didn't think I'd get so choked up over Oscar losing his mom – I knew from the synopsis that he was orphaned!
Still, the footage and narration drew me in and I cared. I cared about what happened. It amazes me how they capture these stories on film without directing or scripting – this was real life for these chimpanzees. It would have been hard for me to hold back from helping Oscar myself if I was on the crew!
As I sat watching Oscar's story unfold in the safety of my living room, I couldn't help but notice similarities to my own family. We take care of Rissa and protect her, all while trying to teach her skills for taking care of herself. Just as my daughter will problem solve, so do the chimpanzees – especially if it revolves around food!
It was disheartening to see Scar's group of monkeys basically bullying the group Oscar lived with trying to take over their territory and food. After Oscar lost his mother, he tried to make it on his own but he was too little. He just couldn't do it alone, not yet. His group is supposed to be like an extended family, but he kept getting rejected. I thought one of the other mamas would take him in, but they were too busy with their own babies. It was heartwarming to see the leader of their group – the most unlikely of chimps – adopt Oscar.
Family is what you make of it. It is those who help you and are there for you at the best and worst of times regardless of whether or not they share your bloodline. Thank goodness Oscar didn't avoid his would-be adoptive dad (more like granddad!) even though it seemed improbable that he would take him under his care.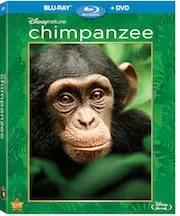 Chimpanzee: Order on Amazon!
On August 21st, Disneynatures' CHIMPANZEE released on Blu-ray Combo Pack (Blu-ray + DVD), Digital and On-Demand viewing. The inspiring film follows the True-Life Adventure of Oscar, a young chimpanzee whose curiosity and zest for life showcase theintelligence and ingenuity of some of the most extraordinary personalities in the animal kingdom. Bonus material includes a making-of documentary, the "Rise" music video from McClain Sisters and more!
I really enjoyed this film, even though I wasn't sure if I could sit through it all at once. Oscar is a primate worthy of admiration for his perserverance and courage. Have you seen it yet?
_____
Disclosure: I received a review copy of this movie. No other compensation was received.