One essential piece of baby gear is a high chair of some sort. Baby needs a place to eat, right? We actually didn't have a high chair at home until recently. While our booster seat is okay, it doesn't beat a real high chair. I've been wanting one for awhile, but I had trouble justifying the purchase and precious space it would take up in the house. I didn't much care for the fold up ones (didn't seem sturdy enough) and I was very hesitant to spend over $100 on yet another piece of baby equipment.
I welcomed (and much appreciate) the opportunity to review the Carter's Wild Life Classic Comfort Reclining Wood High Chair by Summer Infant.
This high chair is like the Cadillac of high chairs. It's wooden – not metal or plastic – with a dark cherry wood finish. It looks nice and blends in with our other furniture. It has a three position recline allowing you to adjust the seat to accommodate feeding babies at various stages. The padding is cute and easy to wipe down quick.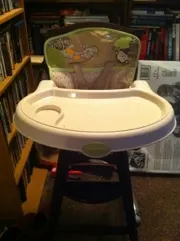 It arrived in a big box, requiring assembly. One of our friends was kind enough to volunteer to put it together while visiting. It doesn't require any additional tools; everything you need to put it together is included in the box. This was a relief to me because I always seem to have to hunt down screwdrivers in our house! The pieces were quality – even the hardware. No bad threading found on screws. The instructions could use a little work to be more clear. Some steps were too broken down and dragged out while other steps were glossed over and/or lumped in so it's easy to miss doing something… Later finding out so you have to disassemble and backtrack.
She's not quite tall enough yet, but there's a footrest for her, which I think will be helpful for comfort. This high chair is intended for use up to age 3 and 40 pounds. So, we should get quite a bit of mileage out of this over the next few years. It has a five point safety harness offering security and safety (though baby should not be unattended while in the chair). I like that the shoulder and waist straps were connected to the buckles. Less fumbling, twisting etc to get the child buckled in.
I'm in love with the trays. The large tray needs both hands to operate, but it slides very smoothly. There are four adjustment points. The main portion of the tray that Rissa uses can be taken off and washed in the dishwasher! Yay! Time saver! But what I really like is the small little tray under the big tray. It's attached to the chair and I call it the snack tray. It has a small, shallow indented area perfect for a few Cheerios. So, depending on what I'm feeding her, using the small tray makes sense.
Great Baby Shower gift idea! If you are expecting, add this chair to your registry! We thoroughly enjoy it. Oh at the party – we used this chair to serve Rissa's first piece of cake to her. It made it easier for all our guests to see her, even if she barely ate any!
______
FTC Disclosure: I received the product(s) mentioned above free of charge by the company or PR representative in order to conduct an honest review. I was not compensated in any other way for this post. The thoughts, experiences, and opinions included are entirely my own and may differ from that of others. I am not liable for any issues you may incur from use of said product(s). Images used are owned by me or provided with the company's permission unless otherwise sourced. See full disclosure information. If you have any questions you can contact me or leave a comment.