Disclosure: This is a sponsored post to share information about the LEGO® Americana Roadshow at Mayfair Mall. All thoughts and experiences shared are our own.
After spending a week hanging out by the lake, it was rough adjusting to our summer routine. While I welcome the warmth of summer, I do not enjoy the humidity. The Monday after vacation was stormy and humid. After being free to run around outside to play in the sand and water, it was not so fun for my kids to be cooped up indoors. Especially since it meant mommy was working rather than playing.
We decided it was the perfect day to head to Mayfair Mall and check out the giant replicas of national monuments, built to large scale with LEGO® bricks at the free LEGO® Americana Roadshow. After searching for kid shoes and convincing my 2 year old that he did indeed need to wear shorts or pants of some kind, we loaded the kids into the car and headed to Milwaukee. The plan was to wander throughout the mall to check out the buildings then have dinner at the Food Court.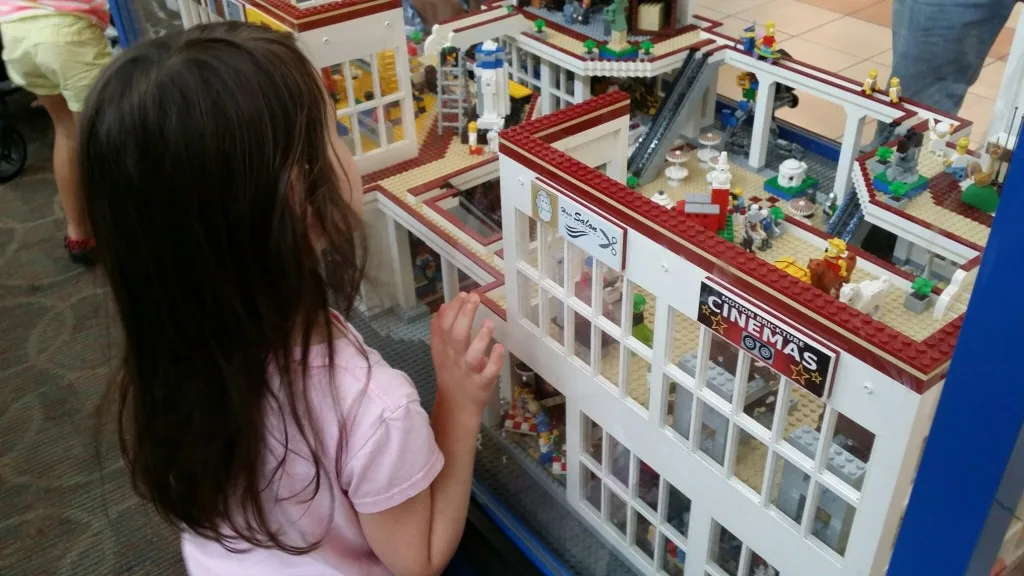 When we arrived we weren't sure where to start, but saw signs as we entered. It didn't take long before we spotted display cases for smaller creations. At the first large building we found, we acquired a map to ensure we didn't miss anything. Fun facts, such as how long it took to build, were displayed next to each featured landmark.
Both of my children (4 years and 2 years old) were interested in each LEGO® replica. My daughter recognized the Statue of Liberty. They both love to build towers, houses, and castles at home. It's amazing to see what else is possible – especially the details! It was incredible to see the U.S. Capitol Building, White House, Supreme Court, Washington Monument, Jefferson Memorial, Lincoln Memorial, Statue of Liberty, Independence Hall and Old North Church like that. And the hours it took to make them? Wow. Just wow. The Statue of Liberty, for example, took 320 hours to build by three LEGO® Master Builders.
I was impressed. I won't ever pass as a Master Builder. I'm not even as clever as Emmet Brickowski with his double decker couch. (The first thing my son said when he saw LEGO® bricks was "Awesome!" which is what he calls The Lego Movie.)
Even though my kids are fairly young, I thought it was a nice little introduction to history for them. I'm not sure if or when we can see all of these places in person. Although I didn't go into great detail about each one with them, we did tell them what they were. And they will be recognizable.
Hopefully one day I can have a side by side photo of my kids in front of the replica AND the real thing.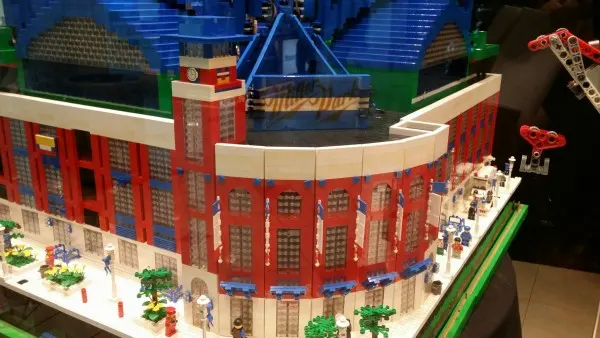 It was really fun to see the Miller Park replica too, which is actually motorized to open and close the roof. We didn't get to see it in action though. (I told you – details!)
The kids had fun being able to walk around Mayfair Mall to help us find each building. We made it almost like a scavenger hunt. My daughter even wanted to enter the contest to guess how many LEGO® bricks it took to build the U.S. Capitol.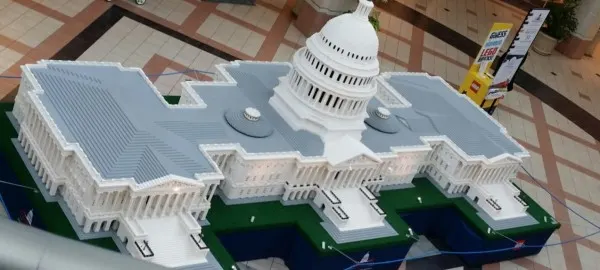 Her first guess was 100 because when you're learning to count that high, it seems like a HUGE number. Eventually she settled on a guess of 5,000. I can hardly fathom a reasonable guess, can you?
The LEGO® Americana Roadshow is at Mayfair Mall until June 28, 2015 – Don't miss out on your opportunity to check out this fun, free event! Mayfair Mall is the only place in Wisconsin where you can visit the LEGO® Americana Roadshow.