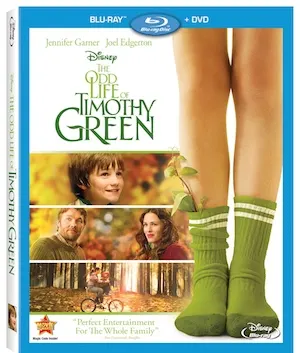 One of my favorite family movies of the year is hands down The Odd Life of Timothy Green. There is so much I like about the story, the characters, and the cast that I feel like Timothy has become part of our family.
Not literally, but in an inspiring touching sort of way.
I was so glad to receive a copy and couldn't wait to watch it again. I hadn't seen it since the screening I attended in April since we were unable to get to the theaters while it was out. We watched it a few days before X's birth day as I tried to find relaxing and enjoyable things to do while waiting to go into labor.
It was the first time Brian saw it and he enjoyed it as I knew he would. Rissa sort of watched it and now refers to Timothy as "Green green." If you haven't read my movie review of The Odd Life of Timothy Green yet, please check it out along with my interview with C.J. Adams.
In watching the bonus features, I really liked the Family Roots feature. It gave a lot of behind the scenes impressions about the story and cast members who became a family of sorts themselves.
I loved learning that one of my favorite scenes – the music recital – was partly unscripted. Peter Hedges, the director, let the cameras keep rolling and as the Greens got into their Low Rider rendition. The scene worked so great because they just went with it – it was more authentic. I also found it interesting when Hedges talked about just letting C.J. and Odeya (Joni in the film) play.
The Odd Life of Timothy Green is a family movie I definitely recommend owning for the laughs, the inspiration, the tears, and the magic.
_________
Disclosure: I received a copy of this movie. Even so I only requested it because I love it so much!. Post contains Amazon affiliate links.