If your child loves Marvel characters, they will probably love Bonkazonks by Hasbro. When I heard about this new toy, I was very interested in checking it out! Being a Marvel's The Avengers fangirl and all, I was especially thrilled to receive the Captain America Face Case!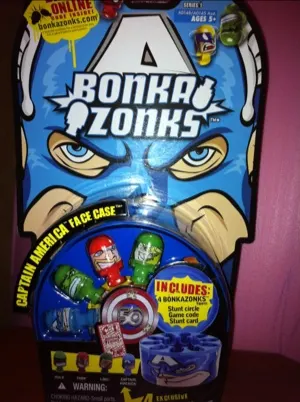 But What are Bonkazonks?
Bonkazonks is the newest way for heroes and villains to battle your way in this collectable, free-form, stunt-battling game! Players can flick, spin, or stack their mini Bonkazonks figures —featuring favorite Marvel characters — to wage battles with friends or perform tricks and stunts by playing on their own. Each Bonkazonks Face Case comes with a stunt card with an online code to unlock more fun at Bonkazonks.com and a display tray to show off your Bonkazonks collection! With over 100 Bonkazonks available, there's no limit to how you can collect and play!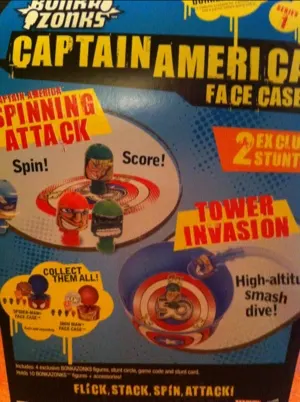 If The Avengers aren't quite your thing, no worries – there's Spider-Man, X-Men and more to choose from! I loved that the Captain America Face Case came with Loki, my favorite villain. I wasn't very good at pulling off the stunts, but it was kinda fun playing a superhero version of marbles. I was surprised at how easily they flipped onto their heads though! I like how everything is kept inside the Face Case – making it easier to keep track of all the small pieces.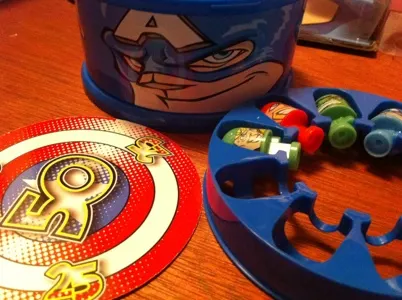 Bonkazonks are intended for children 5 years+. I think these would make a great birthday gift for a little superhero in your life!
Which will you collect: heroes or villains?
You can find Bonkazonks Face Cases and additional figures at HasbroToyShop.com, Amazon.com, Target and Toys "R" Us!
_____
Disclosure: I received a Bonkazonks Face Case for review; no other compensation was received. Affiliate link for Amazon included.