Rissa gets bored super easy while in the car. This gets frustrating for all of us on road trips. As long as the car keeps moving she's usually okay for about an hour to an hour and a half. If the car stops she fusses and cries because she wants to get out and run around. So, when we hit the road I need Rissa to be entertained from the moment I click her five point safety harness into place until I unbuckle her – whether it's a 10 minute trip down the road to the grocery store or a pit stop on a road trip. The Baby Einstein Travel Mirror (just released in February 2012) currently helps keep her occupied.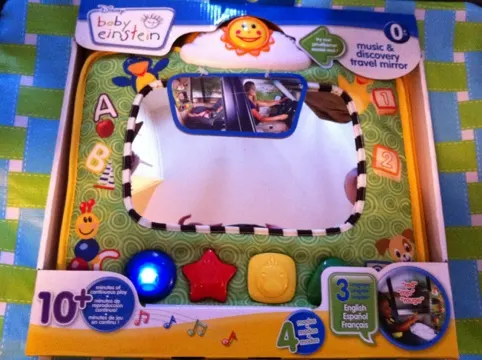 This travel mirror also has colored flashing lights and music – all things babies and toddlers seem to like (at least up through age 16 months like my daughter). She loves to look at herself in pictures and in mirrors.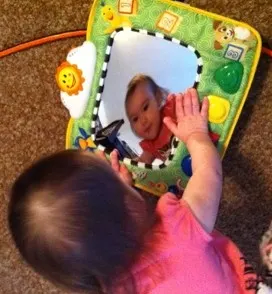 I barely got it out of the box before she took it from me!
There are a couple settings: music with lights, just music, or just lights. The dial above the sun is a timer which can be set for 10, 20, 30, and 60 minutes. To start it, Rissa presses the sun. She kept trying to press the colored shapes that light up but they aren't buttons. The "discovery mode" says the shapes and colors in 3 different languages too.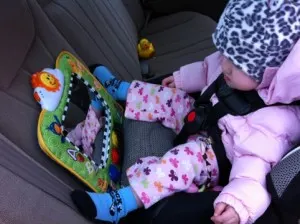 We weren't able to actually install the travel mirror because we don't have a raised headrest on the backseat. I just set it against the seat. She kicks it, grabs it, and throws it when bored, but I can't hang it anywhere.
Favorite feature:. I like the timer. Some toys can drive me batty by going off on their own or just going on and on when not played with. This way I know about how long she will be interested and it will stop playing unless she presses the sun again.
Least favorite: The install strap and the picture on the box make it look like the car seat is forward facing with the mirror on the back of the back seat. That won't work for kids under two years old. It also shows using it as a way to see baby with the rearview mirror. It works ok, but again we couldn't actually install it. If she was still in her infant carrier she wouldn't be able to see it. Wish there was a better way for it to fit in all cars.
Conclusion: It has helped with travel entertainment. I think Rissa would have enjoyed it a lot as a baby! I know she wishes the shapes were buttons though! This would be a cute shower gift!