A few months ago I shared 4 reasons why you should go see Brave after I saw it in 3D at the movie theater. Those reasons still hold true, but now I have a few reasons why you should not only SEE it, but OWN it as well. One of those reasons overlaps – the amazing detail! There's a good reason it's been called the #1 animated film of the year.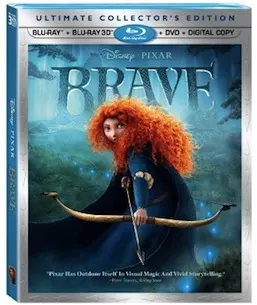 1 – It's gorgeous to watch.
2 – It contains important and positive messages for kids that will be viewed differently as they grow up.
3 – The bonus features!!
The shorts.
Not the ones worn in the movie (they wore kilts anyway) but La Luna and The Legend of Mordu. La Luna is a cute animated short about family men who are tasked with keeping the moon clean. The Legend of Mordu takes a deeper look into what happened to him as told by the witch who cursed him.
The other bonus features I really liked went into detail about their research of Scotland. From the castles down to the amazingly springy moss – it's beautiful scenery that Disney Pixar got right. I think it's one of the most accurately (and beautifully) detailed landscapes I've seen in an animated film.
I could go on and on about the extras, but I don't want to take that away from you. You need to see them for yourself! I haven't even been able to finish watching them all yet (there's a whole 2nd disc full). They really loaded on the special features with quality, interesting stuff.
Have you seen BRAVE yet?
Disney Pixar's BRAVE came out on Bluray/DVD on November 13, 2012 – just in time for the holidays!
_____
Disclosure: We received a BR/DVD combo pack for review purposes. Post contains our affiliate link.