20 Sweet & Scrumptious Cookie Recipes
I have really been in a baking mood, but I am finding way more sweet and scrumptious cookie recipes than I have time to make. Next year, I must begin my holiday baking earlier. Honestly, these are more than just holiday cookies. These can be enjoyed any time of year. Seriously, if you want to make eggnog and candy cane cookies in June, I won't judge (but only if you share). They would be perfect for a holiday party or cookie exchange too!
Cookies are my favorite thing to bake and my most frequent indulgence. I like them soft, sweet, chunky, chewy, crispy, big, small… pretty much any variation except burnt. It is possible to save burned cookies by shaving off the burnt bottoms. I recently watched a video on Facebook demonstrating it. Brilliant, right? I thought so! (We'll assume you aren't going to burn any though, OK? OK.)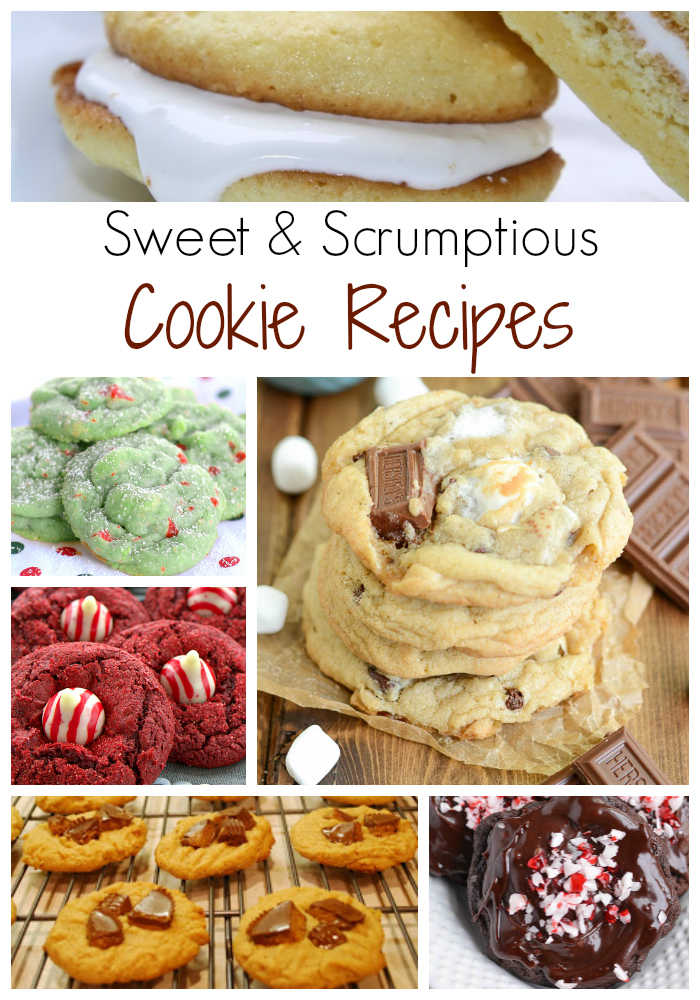 Sweet & Scrumptious Cookie Recipe Roundup
1. A Pumpkin and a Princess – Reese's Peanut Butter Cookies
2. Yellow Bliss Road – Chocolate Dipped Cheesecake Cookies
3. I Heart Naptime – Pistachio Cherry Meltaway Cookies
4. Teaspoon of Goodness – Grandma's Easy Sugar Cookie Recipe
5. Thinking Outside the Sandbox – Molasses Cookie Sandwiches
6. This Silly Girl's Life – Candy Cane Red Velvet Blossom Cookies
7. Melissa's Cuisine – Lemon Crinkle Cookies
8. A Bird and a Bean – Pumpkin Chocolate Chip Cookies
9. A Pumpkin and a Princess – S'Mores Cookies
10. Home Cooking Memories – Eggnog Biscotti
11. Yes to Yolks – Soft & Chewy Ginger Snaps
12. Yellow Bliss Road – Whole Wheat Pumpkin Chocolate Chip Oatmeal Cookies
13. I Heart Naptime – Homemade Peppermint Oreos
14. Teaspoon of Goodness – White Chocolate Dipped Ginger Snaps
15. This Silly Girl's Life – Cinnamon Roll Cookies
16. That's So Michelle – Coconut Moon Pies
17. Yes to Yolks – Pumpkin Spice Latte Cookies
18. A Pumpkin and a Princess – Chocolate Ganache Peppermint Cookies
19. Home Cooking Memories – Hot Chocolate Biscotti Recipe
20. How Sweet it Is – Salted Dark Chocolate Truffle Cookies
What is your favorite kind of cookie? Pin this list for later!
Subscribe
Get weekly sanity saving parenting tips, recipes, and kids activities.
Written by
darcy
Darcy lives outside of Milwaukee, Wisconsin with her husband, their 8 year old daughter, 6 year old son, two cats, and a rescue dog. She loves to share kids crafts, simple recipes, and parenting tips to help other moms. She's passionate about education (which is why she is a PTO board member and Box Tops Coordinator) and all things babies. Darcy loves purple, geek culture, and making an ordinary life feel extraordinary. She and her family enjoy exploring Wisconsin and planning local adventures. Author of Breastfeeding 101: Beauty in Breastfeeding, available on Amazon. Her writing has also been featured on Babble, CafeMom, and Mom.me.
View all posts by: Darcy Zalewski