We love this list of St. Patrick's day recipes as a great way to celebrate with the kids! They are fun, full of great flavors and of course, bring about the joy of the holiday. St. Patrick's Day is always tons of fun for kids since you can color everything green, enjoy fun flavors and of course, take the chance to pinch them if they aren't wearing green. This list of recipes will have your taste buds happy, and your kids giggling over the fun colors!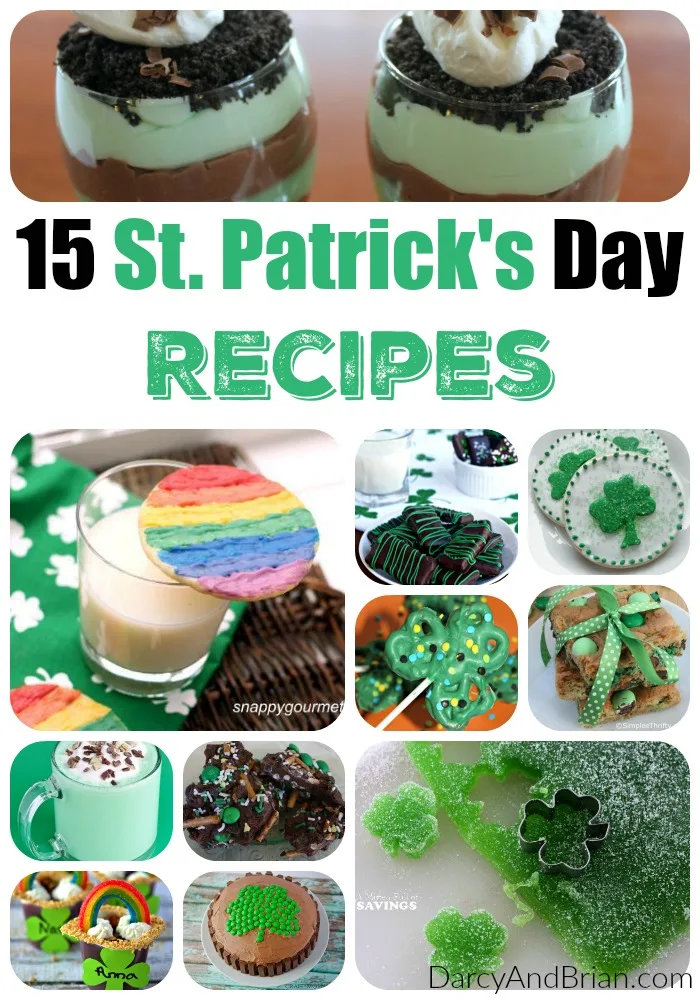 15 St. Patrick's Day Recipes
This post may contain affiliate links.
Don't forget to grab some green streamers, fun Leprechaun decorations, and green confetti to decorate your table for a fun and festive breakfast, lunch or dinner for this day of celebrating all things green and Irish.
Mint Theme St. Patrick's Day Recipes
I love the idea of serving the Lucky Green Mint Milkshake from 5 Minutes For Mom alongside some of the St. Patrick's Day Mint Blondie Bars from Simple Thrifty as a great after school snack. You might prefer the St. Patty's Day Minty Pudding Parfaits from See Mom Click or the Mint Chocolate Grahams from A Mitten Full Of Savings since they are both semi-homemade and might be easier to manage with kids underfoot.
Shamrock Theme St. Patrick's Day Recipes
Shamrock Pretzel Pops from Mommy's Bundle are a fun project to get kids involved in making. Two other great easy to make treats are the St. Patrick's Day Shamrock Brownies from A Frugal Navy Wife and the St. Patrick's Day Chocolate Shamrock Pops from Hoosier Homemade. These are both beautiful and simple to make. For a bit more work, you can make the Kit Kat Shamrock Chocolate Cake for St. Patrick's Day from Crafty Morning or the Shamrock Sugar Cookies from Premeditated Leftovers.
Kids Party St. Patrick's Day Recipes
Kids class parties, or just an after school special snack tray is a great time to make the Ombre Green Rice Krispie Treats from Love From The Oven. Leprechaun Bark from 5 Minutes For Mom and Green Popcorn & Pretzel Party Mix from The Yummy Life are fun to have on hand since they have tons of flavors and are easy to personalize. A bit of work but well worth the time are the St. Patrick's Day Homemade Gum Drops from A Mitten Full Of Savings.
Rainbow Theme St. Patrick's Day Recipes
My two favorite rainbow theme treats is the super easy semi-homemade Rainbow Pudding Cup Treat from Crafty Morning and the cute Rainbow Painted Sugar Cookies from Snappy Gourmet. Both of these are great for a leperachaun themed party!
There is nothing as much fun as seeing your kids eyes light up when you present them with a table adorned with these delicious St. Patrick's Day recipes. I love setting up a special table decor with confetti, streamers and then adding a few drops of food coloring to their milk to start their day with green eggs, milk and pancakes. Then these delicious desserts can be served up for snack time, lunch or dinner!
More St. Patrick's Day Ideas