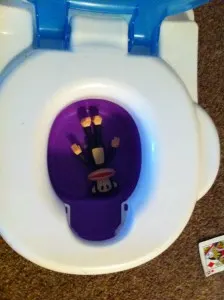 Sometimes Rissa does odd things with her toys. Intentional or no, I found this scene amusing and had to snap a picture. Earlier this week I asked our Facebook fans and friends to come up with a caption. Here are some of my favorites:
This is not in mind when I requested a water bed. – Susanna M
oh no, now i am going to smell like a funky monkey -Nancy C
"Well I thought it was a good hiding spot" – Rae G
Hey this it not where I go for time out -Christi H
I have a $hitty job! -Carolyn M
I'm Julius, I deserve a day at the spa. This isn't quite the whirlpool I envisioned. -Jennifer K
If that's what you are pooping maybe your diet needs to change? -Sara R
yeah mom, when monkeys fly outta my butt!!! -Stephanie B
What caption would you give this picture?