I told you before that I got a chance to screen People Like Us while I was in NYC. It really is a good movie about family and I'll share my full review nearer to release. But, I wanted to share something really cool! Check out this trailer that will air on TV all month long and includes some quotes from people tweeting their thoughts on it….

(Video)
This is the closest I've been to being featured on national television! Did you see the middle tweet? "LOVED IT" by @Syrana? THAT'S ME! Howv cool is that? Here is a screenshot so you don't have to pause it yourself…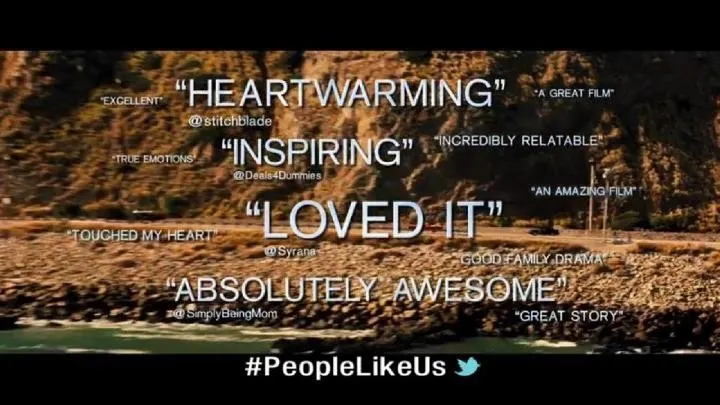 I tweeted a few reactions so there might be other bits of my tweets floating around the edges – I'm not certain though. Cool though, right?
People Like Us will be in theaters June 29.
Like on Facebook: https://www.facebook.com/PeopleLikeUs
Follow on Twitter: http://www.twitter.com/ppllikeusmovie
In a story inspired by true events, Sam, a twenty-something, fast-talking salesman, is tasked with fulfilling his estranged father's last wishes—delivering an inheritance to a sister he never knew he had.

From DreamWorks Pictures comes "People Like Us," a drama/comedy about family, inspired by true events, starring Chris Pine ("Star Trek") as Sam, a twenty-something, fast talking salesman, whose latest deal collapses on the day he learns that his father has suddenly died. Against his wishes, Sam is called home, where he must put his father's estate in order and reconnect with his estranged family. In the course of fulfilling his father's last wishes, Sam uncovers a startling secret that turns his entire world upside down: He has a 30-year-old sister Frankie whom he never knew about (Elizabeth Banks). As their relationship develops, Sam is forced to rethink everything he thought he knew about this family—and re-examine his own life choices in the process.