Our wedding anniversary is coming up on May 27th. Maleficent comes out in theaters on May 30th. It's only logical that I want to go on a date to see it. I mean, Disney is practically giving me an anniversary present by releasing it so close, right? Okay, so they weren't thinking about me with the timing or they'd have it come out the Friday before. I'm going to do my best to see it opening weekend, but my daughter also has her dance recital then.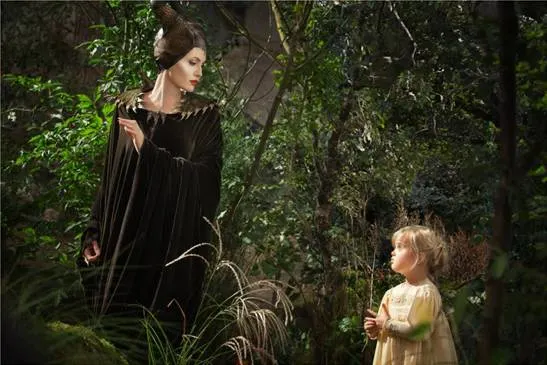 Every time my daughter watches one of the trailers, she says she doesn't want Maleficent to "break" me. She thinks she's quite scary (and she is) and seems a bit concerned with my interest in Maleficent. "She's bad, right?" she asks.
"I don't know. Yes, but maybe she has to be…" It's hard to explain a gray area to a 3.5 year old. She understands people can be good or bad and can change from one to the other, but it's hard to grasp the concept that someone might be both simultaneously. That's my theory right now — that she's both.
"Finger Prick" Clip

Now, even though Rissa has gone to the movies with me once, I won't be taking her to see this film. It's rated PG, the trailer is a little scary to her, and I want to watch it in its entirety before I decide if she can watch it with us or wait until she's older. In the meantime, she can have fun with the coloring pages down below.
So date night it is.
But if I can't get a date night for it then I'm planning a moms night out. Or, if I really must, I'll take myself out to the movies. There's no shame in going to the movie theater alone, right?
"Light & Dark" Featurette

Free Maleficent Printable Activities