Both of my kids love to play outside and everything that comes with warmer weather. It's clear that they need to move around and burn off enough energy so we don't get on each other's nerves. I'm still learning how to balance working at home with playtime though. It's not always as easy as it was when blogging was my only job.
And, of course, my kids are too little to understand that balance. I could play with them for eight hours straight, but the five minutes I use to check email is the end of the world. They only know that they want to play NOW and it doesn't always match up to when mom can.
Anyway, here are some of our summer must-haves!
Please note that some of these items were received for review and contain referral links to Amazon.
Sunscreen!
Thankfully neither of my kids have burned very much. Each of them have been kissed a bit by the sun on occasion, but generally I make sure to slather them with ThinkBaby or ThinkSport for Kids sunscreen. It was the one I felt the most comfortable with after checking ratings when Rissa was a baby. It has an SPF of 50, it lasts through water play and swimming, and it's protected us well. In fact, Brian and I use it too. I burn REALLY easy, but I only burn where I miss putting this stuff on.
Swimwear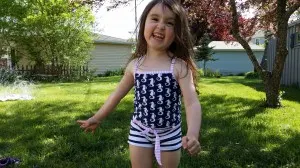 Although I'm not much of a swimmer, the kids love playing with water. From water tables to running through sprinklers…. swimming pools to water parks…. my kids need at least one swimming suit for the summer (if not more). We received these adorable seahorse swimming suits for review from Snapper Rock. I like the one piece for Xander. At first I wasn't sure if I liked the two-piece for Rissa, but it does make it easier for potty breaks. These suits are lightweight and also give them 50+ UV protection from the sun. They dry fast too!
Gotta Have Shades
Protecting their eyes from the sun is just as important as protecting their skin. Unfortunately, they don't keep their sunglasses on very long and are constantly getting lost. Xander likes to play with them and Rissa misplaces hers all the time. Rissa has started to wear hers more often, especially in the car. The sun can be bright while rear facing!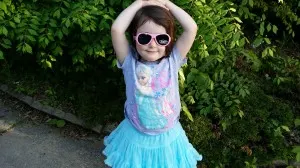 Each kiddo received a pair of Babiators for review. I like the different sizes the Babiators come in, making them a better fit than what we've bought at the store in the past. After a month, neither of them have broken either!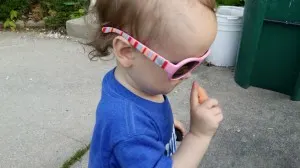 I wasn't able to get a picture of Xander wearing his own pair – he wouldn't hold still! – but I have evidence of him trying on his sister's pair…..
Oodles of Outdoor Toys
Ride on toys
Climbing dome
Balance bike
Scooter
Wagon
Water tables
Swimming pool
Splash pad
Sidewalk chalk
Balls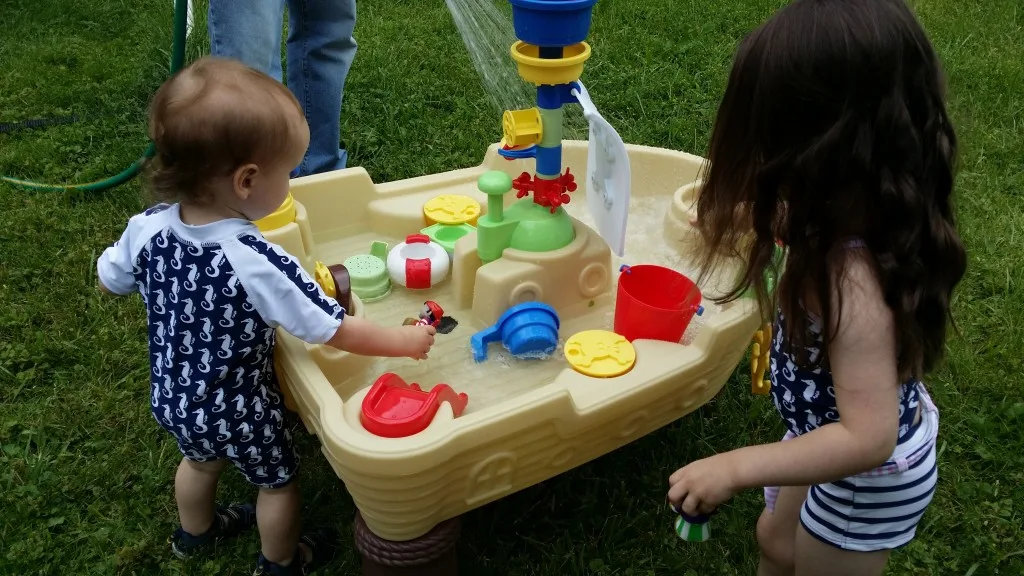 We have all that and more I'm not thinking of. You don't need all of those, but a few are nice for mixing it up when it's time to go outside. These are all extremely popular at our house during the summer. Especially the water table. We have lots of fun toys from Little Tikes!
Have Stroller, Will Travel
This is more of a must for me. Whether we are headed to the park or going on an adventure out of town, we need a stroller. These two are still too little to do lots of walking on their own (plus Xander wanders too much). The stroller helps save us from doing a lot of carrying plus provides a place for our stuff. With the one car, the stroller is my main mode of transportation throughout the summer. I did just buy a new jogging stroller too.
Sandals, Baby!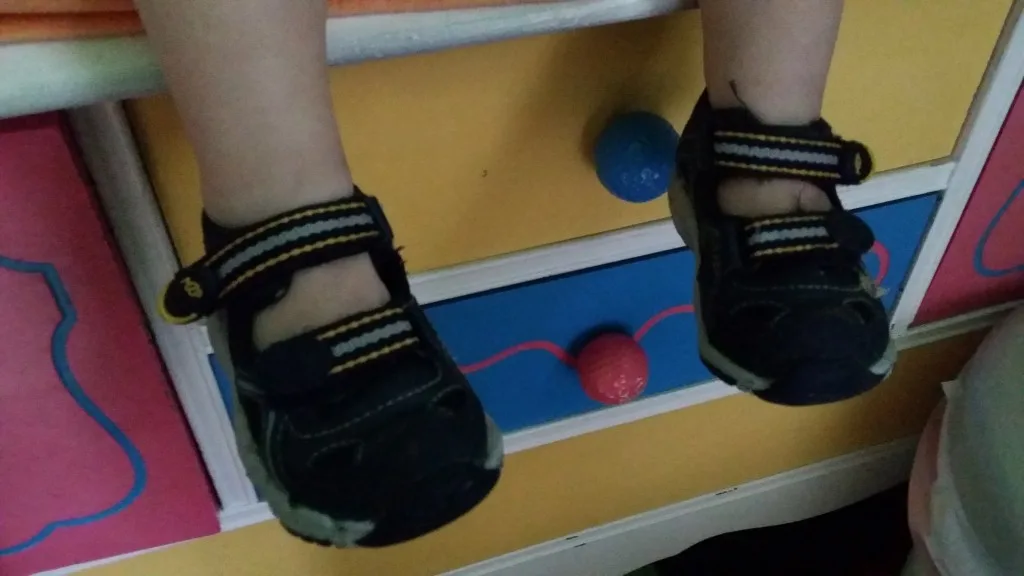 I don't like feet, but summer means we wear sandals a lot. They're quick and easy to put on the kids and more breathable in hot weather. Right now my favorite sandals are Made 2 Play from Stride Rite. We bought Rissa a pair last summer and they survived the whole season so we bought each kid a pair for this summer. They fit well, are easy to get on/off, the odor is somewhat controlled, and I can throw them in the wash! I don't worry about the kids getting them wet or dirty because they are made to throw in the laundry. LOVE them.
What are your summer must-haves?