Kids…they are germy. It seems to be a fact of life since they tend to lack good hygiene skills and spend a lot of time around other children and sharing things.
It is estimated that 82% of U.S. children aged six weeks to six years old, spend some amount of time in child care. Whether it's five or 50 hours a week, the risks of spending time in a daycare or pre-school setting are the same — increased exposure to contagious germs and viruses.
Because of these facts, it is extremely important to be aware of the signs of RSV (which produces cold-like symptoms) and how to minimize the spread of germs among young children.
I previously vented about how it drives me crazy that my daughter puts her hands in her mouth, nose and diaper without a second thought. If you spend some time observing a group of toddlers and preschoolers, she's not alone. It might not seem like a big deal, but it contributes to them spreading and contracting illnesses from their friends. This can be especially dangerous if those children come in contact with babies. We all think it's cute to see our little ones kiss and hug their siblings, but we need to keep baby's health and safety in mind too.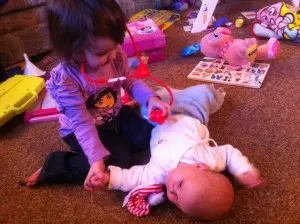 RSV is highly contagious and can live on surfaces (doorknobs, counter tops, toys, bedding) for several hours and is often spread through touching, hugging and kissing.
I know this is hard! My daughter can't seem to keep her fingers out of her baby brother's face. I am constantly redirecting her (and using wipes on her hands). The flu season typically is from November to March in North America, and both my kids were newborns during it and I've managed to keep them healthy through it. This year has been an especially bad year for the flu, but our family has remained illness-free so far.
Symptoms of severe RSV infection that require immediate medical care:
Coughing or wheezing that does not stop

Fast or troubled breathing

Spread-out nostrils and/or a caved-in chest when trying to breathe

Bluish color around the mouth or fingernails

Fever (especially if it is over 100.4°F in infants under 3 months of age)
If a child has milder symptoms of RSV, the virus will likely run its course without any cause for parental alarm.
There is no treatment for RSV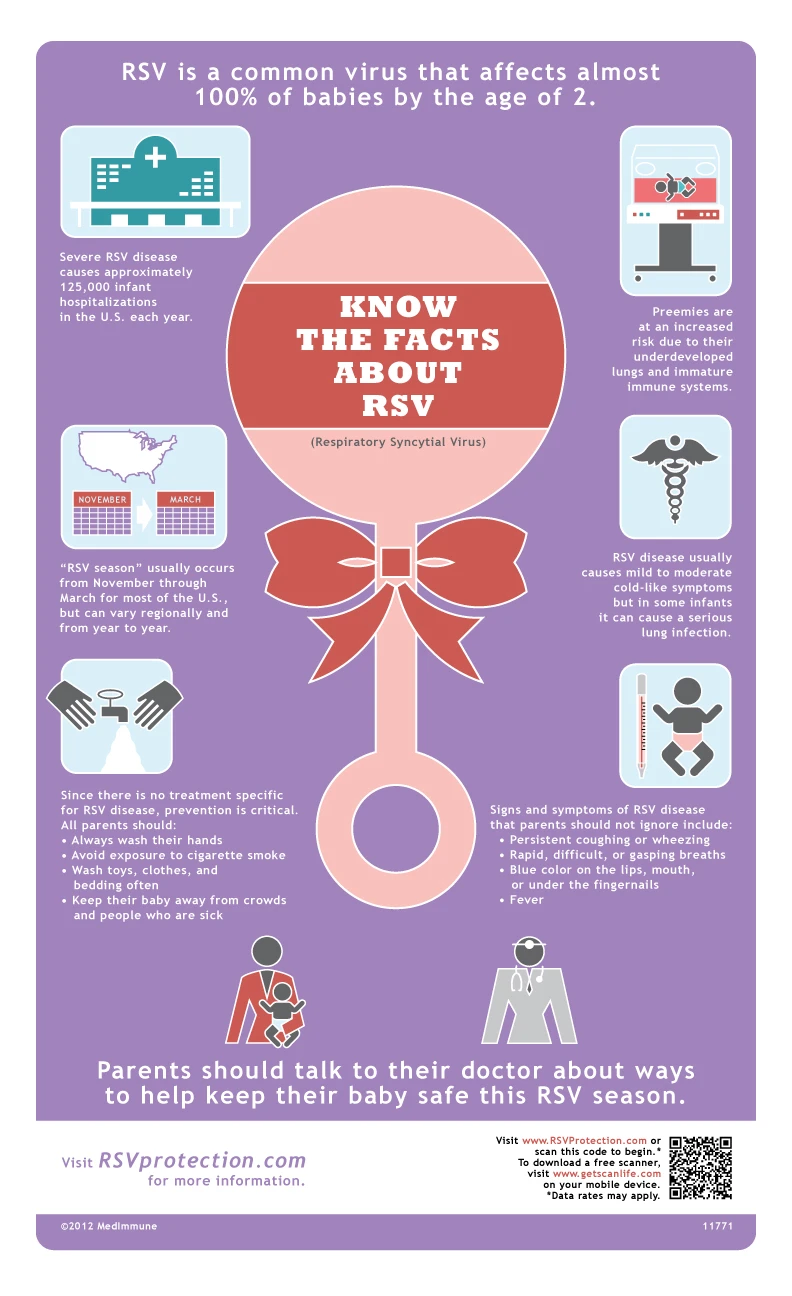 A few facts about RSV that all parents, caregivers and loved ones should know:
Almost every baby will contract RSV by age 2, but only 1/3 of moms say they've heard of the virus.

Serious RSV infection is the leading cause of infant hospitalization, responsible for more than 125,000

hospitalizations and up to 500 infant deaths each year.

RSV occurs in epidemics each fall through spring. The CDC has defined "RSV season" as beginning in November

and lasting through March for most parts of North America.

Certain babies are at an increased risk of developing serious RSV infection, so it's important to speak with a

pediatrician to determine if a baby may be at high risk for RSV, and discuss preventive measures.

Symptoms of serious RSV infection include: persistent coughing or wheezing; rapid, difficult, or gasping breaths;

blue color on the lips, mouth, or under the fingernails; high fever; extreme fatigue; and difficulty feeding. Parents

should contact a medical professional immediately upon signs of these symptoms.

There is no treatment for RSV, so it's important for parents to take preventive steps to help protect their child (wash

hands, toys, bedding frequently; avoid crowds and cigarette smoke).
Visit www.RSVProtection.com and follow #RSVProtection on Twitter for more information.
Minimize the spread of germs by:
Teaching hand washing skills.

Using hand sanitizer if water and soap are unavailable.

Sanitizing toys, door knobs, other surfaces.

Washing bedding and clothing.

Staying in/away from others who are sick.

Keeping children from touching baby's face and hands.

Teaching to cough in the crook of their elbow instead of their hand.

Getting enough rest and eating healthy.

Keeping vaccinations up-to-date.
I hope you find this information helpful whether you learned something new about RSV or a good reminder about minimizing the spread of germs. I do respect that not everyone chooses to get vaccinations, but they are an option for reducing the spread of illnesses. If you know someone with young children or who is expecting a baby, please keep this information in mind to help prevent an RSV infection.
What do you do to keep your family healthy during flu season?
_____
Disclosure: I wrote this review while participating in a campaign for Mom Central Consulting on behalf of MedImmune and I received a promotional item to thank me for my participation.