I'm the first to admit that my daughter has too many toys. She really does have more than she needs, but she gets such joy out of receiving new ones, figuring them out, and creating her own little world. I've noticed that she really loves playing with toys that are also connected to shows and/or books. It's like she gets the opportunity to immerse herself in their make believe world…. or maybe it's just the recognition of the characters?
We don't have cable, so we often miss out on new kid's shows on television. I'd never heard of Peppa Pig before, but she's apparently a popular character in the UK and now she's coming to the US! We received a variety of Peppa Pig items such as a talking plush doll, a DVD with several episodes, a story book called Peppa Pig and the Lost Christmas List, and a Peek & Surprise Playhouse Set by Fisher-Price. I slowly introduced Rissa to Peppa by giving her the plush first, then the book, then the playhouse and DVD. I didn't want her to be overwhelmed with a whole box full of new toys!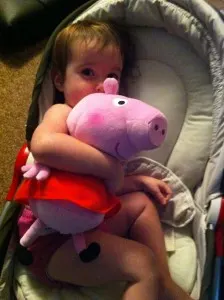 She took to snuggling the plush doll right away. Peppa says a few phrases and snorts, which cracks Rissa up. To make her talk you have to press pretty firmly on her belly, which Rissa can't seem to do by herself. I get asked to "push piggy tummy" over and over and over.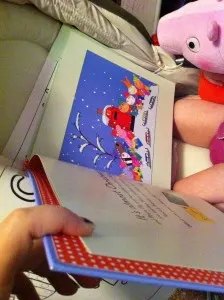 The book is large, colorful, and easy for a toddler to follow along. I loved that the dust jacket had a coloring sheet on it of all the characters! You better believe that thing did not last long on the book. It feels weird reading a Christmas themed story already, but Rissa has been requesting mommy to read it to her. I've asked her to read it to me a few times too. She does a pretty good job of retelling the story based on the pictures!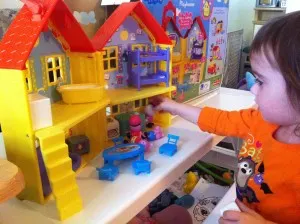 But the true highlight was the playhouse set. I witnessed Rissa's imagination come alive! She was rearranging the house, lining up the piggies, making them dance and sing, and just having fun. It kept her occupied for a good hour when we first opened it up – I kid you not! That's awesome for a (nearly) two year old. It's also been a good educational toy for her since she will identify each character by name and the pieces of furniture.
You can take a look at the house in our video here:
I do wish it was easier to close the house up with everything inside and would latch closed to keep the pieces in. We've been struggling to keep everything together so there aren't any lost piggies!
I've been trying to remember if I ever had a playhouse set like this when I was little. I don't think I did, but I'm really glad this set can be played with by younger children. The other sets I've looked at have too many small pieces and are not appropriate for a toddler. This set is pretty good, though there are a few small pieces to keep an eye on.
Do you remember your first playhouse?
_____
Disclosure: We received the above mentioned products for review purposes. No other compensation was received unless you count my daughter's smiles and laughter!