This layered taco bake recipe is quick and easy to make for dinner. It's a yummy twist on taco night, which is almost always part of our weekly menu plan.
If you have a craving for regular tacos, then you'll want to make our taco meat recipe in the Instant Pot. You can even use the leftovers in this taco bake dish!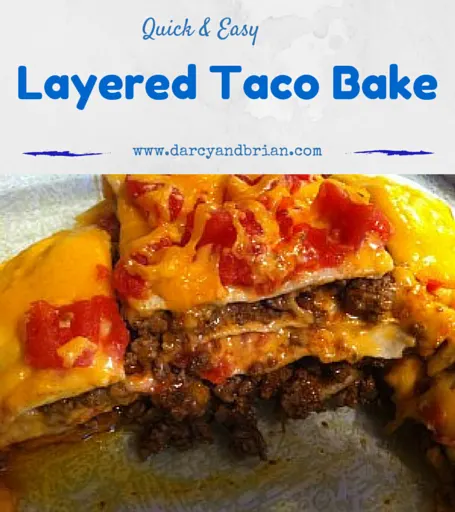 Note about this recipe:
I adapted this recipe after seeing a taco shell kit for a layered bake. I glanced over the kit and decided I could make my own for less money. Of course, when I went to make it I couldn't remember how they layered it so this is what I came up with! We've had it a few times since I first made it. It's quick and easy, and is more interesting than "boring" tacos! Oh, and it reheats well as leftovers. I have not tried freezing it yet.
Layered Taco Bake Recipe
Ingredients:
Tortillas (8-10″)
1 lb ground meat (hamburger or turkey)
Taco seasoning
1 can cheese sauce (I used Campbell's Nacho Fiesta Sauce)
1 can diced or crushed tomatoes
Shredded cheese
Optional Garnishes: Sour cream, black olives, green onions
Side ideas: tater tots, garden salad, rice, corn

Directions:
1. Preheat the oven to 450 degrees Farenheit
2. Brown ground beef over medium heat.
3. Add taco seasoning and water (as directed on seasoning packet or make your own). Let it simmer about 10-15 minutes.
4. Lightly grease baking dish.
5. Layers (as I do them – feel free to change it up!)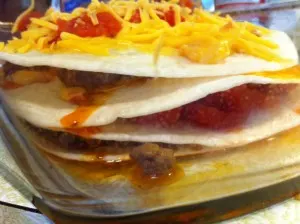 Lay down tortilla
Added shredded cheese, then about half of the taco meat
Add tortilla, then little less than half of cheese sauce and about half to 3/4 of the can of tomatoes
Add tortilla, then rest of cheese sauce (reserving a few spoonfuls!) and rest of the meat
Add tortilla
Top with remaining cheese sauce, tomato and shredded cheese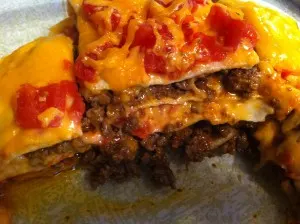 6. Bake on center rack for about 10 minutes
7. Serve!