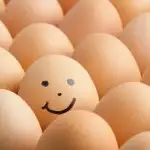 I love breakfast foods though I rarely have more than cereal and toast in the mornings. All the good stuff ends up being a treat for dinner or if we go out for brunch on the weekend. Rissa is still learning about the deliciousness of breakfast foods and isn't quite convinced that she should eat them just yet.
While visiting my parents last month, Rissa would not eat any French toast. What? Is this kid crazy?
So when I came across this French Toast Casserole recipe at My 3 Little Kittens, I wasn't sure if she would eat it.
I knew it looked and sounded good to me though!
I used her recipe and assembled it on a Friday night. It didn't take that long. Cutting up the bread was probably the most time consuming part. I stuck it in the fridge for the flavors to mingle overnight.
The next morning after Rissa woke me up, I was able to preheat the oven while we went through our morning routine. It baked for an hour and by then the whole family was up and hungry.
I was so happy that Rissa ate some! The recipe is a bit much for the three of us, but the leftovers warmed up nicely for breakfast the next couple mornings. I almost want to make it on the weekends just to have it to warm up during the week!
What's your favorite breakfast food?
________