At the stroke of midnight on October 2, 2012, dreams will come true as Disney releases CINDERELLA: DIAMOND EDITION on Blu-ray Combo Pack, Digital and On-Demand viewing. This timeless and beloved masterpiece is an enchanting classic that comes alive for the very first time on Blu-ray high definition with enhanced picture and sound. Bonus features include "The Real Fairy Godmother" the incredible true story of Mary Alice O'Conner who was the inspiration for the character of the Fairy Godmother, "Bibbidi-Bobbidi-You" a second screen personalized digital storybook and more!
The Making of Cinderella and the Real Fairy Godmother
The story of Cinderella is the most told fairy tale in the world. With great vision, Walt Disney adapted it into a feature length film which helped save his company financially after World War II. Cinderella was a very important film for Disney and has a special place in the hearts of many employees. One of Walt Disney's favorite scenes is when the pumpkin turns into the coach during the transformation sequence. I never realized how old the movie Cinderella was since as a child I assumed all Disney movies I saw were new. It was really interesting getting a glimpse at early fairy godmother sketches and other artifacts while touring Disney's Animation Research Library.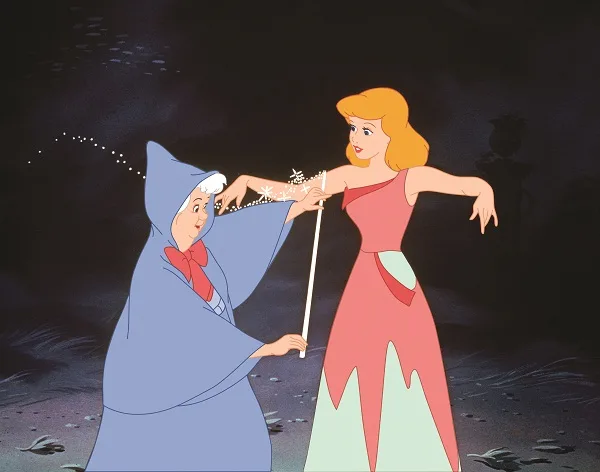 The fairy godmother has become so iconic that I was surprised to find out how long it took them to get her right. Some of the early concept sketches were down right frightening – she looked like a wicked witch! It was pretty amazing to learn that she was based on a real person – the wife of one of the animation directors responsible for setting up perspective.
One of the bonus features introduces you to Mary Alice O'Connor, the inspiration for the fairy godmother. I had the pleasure of seeing it while in LA before the Diamond Edition was released. While Disney struggled to find a fairy godmother they liked, Mr. O'Connor looked to his wife. She was a very generous person by nature, always volunteering and helping to make the dreams of others come true. He saw the qualities in his wife that were fitting for Cinderella's godmother then imagined how his wife would look in the future. He then had a fairy godmother to propose to Disney!
The feature about Mrs. O'Connor is very touching and inspiring. In fact, it brought tears to my eyes. Several other bloggers who viewed it with me also became misty-eyed. The movie came out right before they had their daughter, JP O'Connor, who we had the pleasure of meeting and talking with while at the Animation Research Library. She spoke very fondly of her parents and what it was like growing up as a "Disney Kid" since the employees were very much like a family. We also learned that her father, who worked on several films including Snow White and the Little Mermaid, created a model for Cinderella's coach. He made it in their garage and JP still has it.
"Bibbidi-Bobbidi-You" – The second screen personalized digital storybook
While in LA, I also got to preview the second screen developed specifically for Cinderella. (I'm not used to seeing the extras before they are available!) This second screen is quite different than others. This one syncs up your iPhone or iPad with a personalized digital storybook rather than the movie itself. Not all Disney movies have second screen developed for them. Usually the second screen features I'm familiar with provide additional information throughout the movie, whereas this one takes you through the story with mini-games. Development of an app like this can take six months to a year. This particular one took about eight months to complete.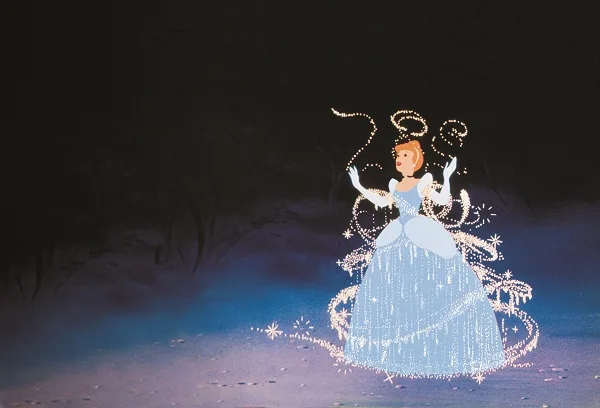 You are able to add your child's name to the storybook and the fairy godmother speaks to them. They recorded hundreds of different names, so if it is one of the pre-recorded names, she will call them by name. It's only available with the Blu-ray and digital copy and can sync up using audio or over wifi. The app itself is free and allows you to play the mini-games if you do not have the movie.
What makes Bibbidi-Bobbidi-You really unique is the way the fairy godmother pops back and forth between the two screens as she guides you along in the story. They took key points in the story that worked for interactivity, making it feel like you are helping poor Cinderella. From scrubbing floors to piecing together the broken glass slipper, they kept the story's message positive.
Cinderella: Diamond Edition – A Classic Favorite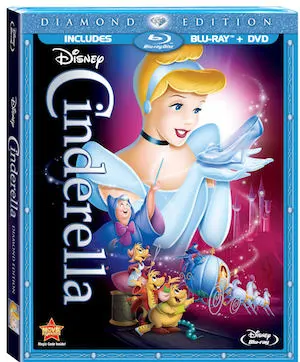 When our review copy of Cinderella arrived, Rissa was quite excited. Her eyes lit up as she exclaimed, "Princess!" I wasn't sure how well she would sit through watching it, but amazingly it kept her still for the full length of the movie. Seriously, that's incredible! She loved seeing the "princess" throughout the movie and adored the mice. I had to laugh when she asked me where the pumpkin went during the famous transformation sequence.
I haven't seen it in years, so it was a nice trip down memory lane for me. Cinderella is still one of my favorite fairy tales! I honestly can hardly tell the difference if an old movie has been enhanced while watching it, but it did look and sound fine to me. You could tell it was a classic based on the animation style, which is to be expected. Brian commented that he didn't realize how much of the movie focused on the antics of the mice and the cat.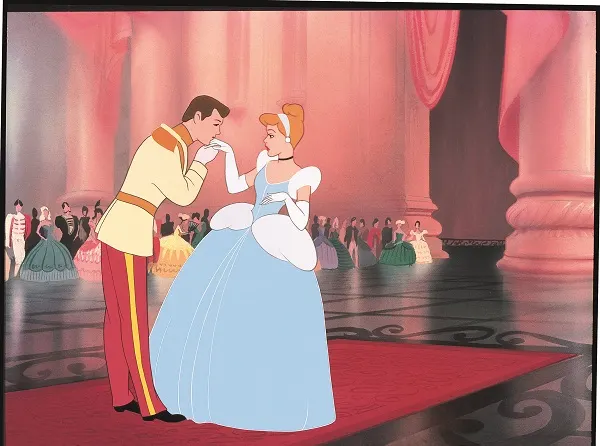 Head to the store tomorrow or order your copy on Amazon today!
What's one wish you'd ask of your own fairy godmother?
_____
Disclosure: I received the movie to review and went on an expenses paid media press trip courtesy of Disney. No other compensation was received no matter how many times I said bibbidy-bobbdty-boo. Images are courtesy of Disney.