We received a bounce house toy from Little Tikes to review for our own play date.
There is just something about bounce houses that draw kids to them like moths to a flame. They are irresistible fun! Around here, there are a couple indoor places filled with inflatables for kids to play on. While those are nice in theory, they can be a little crazy for weekend play dates. They are usually busy and the little ones under 4 years old can be easily intimidated by the bigger kids running around… even if there is a special toddler area.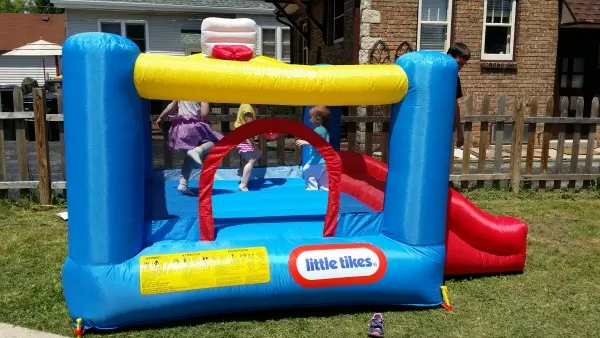 So, how can you ensure your little ones get time to bounce safely while you relax and chat with another caregiver? You host your own backyard bounce house play date! Don't worry, it won't cost you an arm and a leg either. While the big rental ones may be fun, there are smaller affordable options that you can buy such as the Jr. Sports 'n Slide Bouncer by Little Tikes.
Last month we went over to Rissa's best friend's house for a play date. We grilled out, had snacks and the kids played and played and played. Rissa was so excited to try the bouncer. (Of course I checked with them before bringing it. Don't spring a large outdoor toy on an unsuspecting family like that!)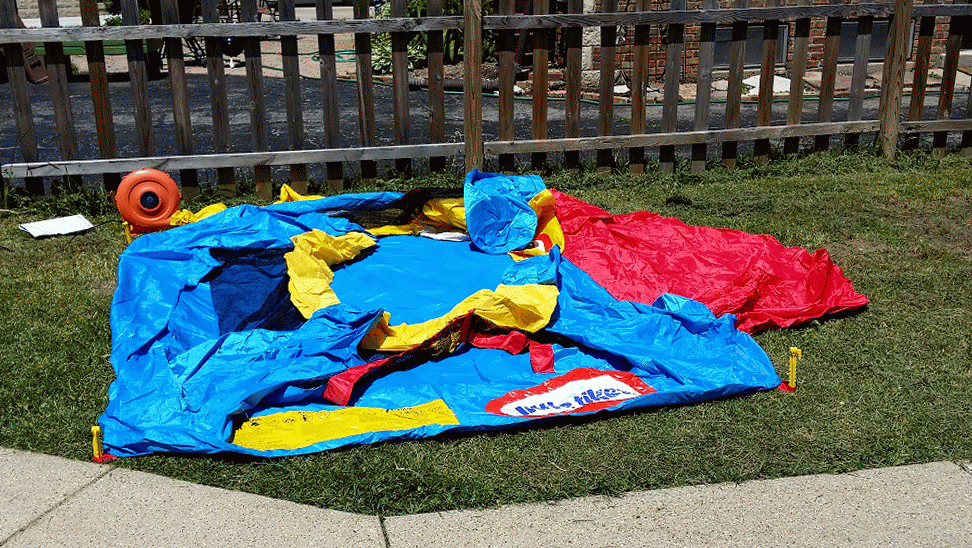 It was super easy to set up and didn't take very long to fill with air. The kids quickly got to hopping and shooting baskets. However, the hoop is placed in a way that a missed basket meant the ball went over the side of the bouncer house too. It would have been nice to keep their play more contained. (We put the dads on ball retrieval duty.)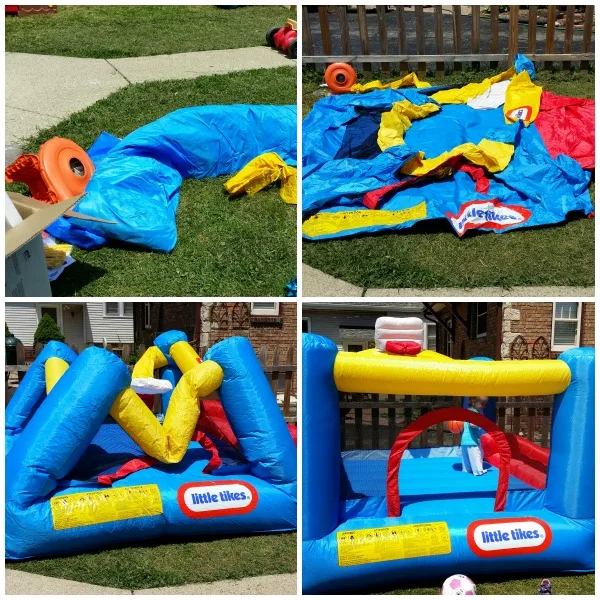 Of course, owning something really cool like this can take away some of its luster. The kids like to ask to have the big fun play equipment they don't play on everyday, but once it's in our yard they sing a different tune. Thankfully, this isn't the type of outdoor toy that gets left out all the time for easy access, making it enjoyable the times it is inflated.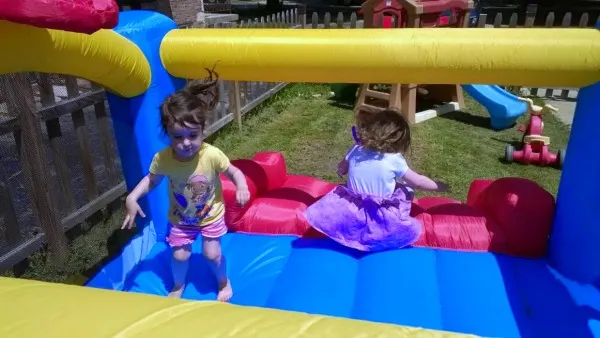 It was nice being able to relax and socialize more while the kids jumped on it rather than constantly following them around a maze of gigantic inflatables. There are weight limits, so this should only be for two to three children at a time who are under 8 years old. No wild parties!