This is a Sponsored post written by me on behalf of Comfort and Harmony for SocialSpark. All opinions are 100% mine.
Xander's idea of the perfect day consists of sleeping, eating, playing, and pooping. This is pretty much the norm for babies, isn't it? Rissa was the same way. Now that Xander is 5 months old, he wants to sit up all the time or if he's on his tummy he's doing mini push-ups or imitation swimming.
With my daughter I was all about the nursing pillows, but with X… it seems like I never have the time to get situated with one. Maybe now I'm more comfortable with nursing whenever, wherever and however? So, I definitely like versatile nursing pillows.
We received a mombo nursing pillow to review. It has the familar U shape, with one side firmer than the other. The firm side is nice for baby to lay on while feeding. The softer side is good for lounging, tummy time and sitting up. I found it hard to nurse with because it doesn't fit around this plus sized mama very well. However, Xander likes being propped up with the pillow while on his belly so it is easier to play with his toys.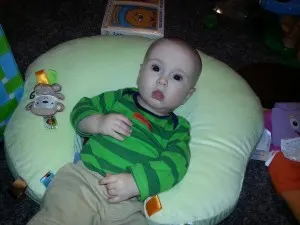 He insists on trying to sit up all the time now, he'll do crunches trying to get up off his back! The Mombo pillow has been great for supporting him while sitting up on the floor. But his favorite part? The Taggies! Textures and tags intrigue him. I constantly find him scratch, scratch, scratching his little fingers against different materials to feel them and hear the sound it makes. He loves to grab tags and suck on them too.
The addition of Taggies to the Mombo is probably my favorite improvement over the early pillow my husband's sister-in-law tried out. It also comes with a removable vibration pod that's easy to insert into the pillow to soothe nursing or lounging babies.
Mombo nursing pillows are available at Babies R Us along with additional slip covers. To keep up to date with other great baby products be sure to like Comfort & Harmony on Facebook or follow Comfort & Harmony on Twitter.