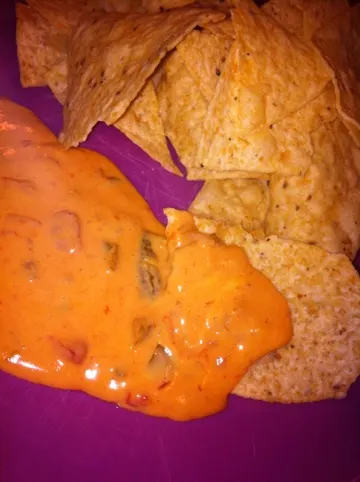 I love queso dip! It's one of my favorite menu items at Qdoba. I can't always afford money or time to go there and get it though. While this recipe won't be winning any awards, it's easy, quick, and tasty. Make it for a party or make it for a snack. We love it for football parties! Or use it as a cheesy spread for another recipe! I can't remember, but I think this may have been suggested on a box of Velveeta.
Queso Dip
8-16oz Velveeta (depending how cheesy you want it!)
1 jar of salsa
Prep:
Cut the Velveeta into cubes and place in a microwave safe bowl.
Heat for 1-2 minutes.
Add salsa, stir.
Heat for another 1-2 minutes; stir.
Repeat the last step again if necessary to blend the cheese and salsa together.
Serve with tortilla chips and enjoy!