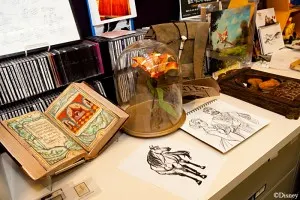 This year I became hooked on a show called Hollywood Treasure. It is all about finding awesome movie memorabilia which they then authenticate and put up for auction. Not everything on the show ends up being sold; sometimes they just go to a collector's house to appraise their collection. It has been fascinating to me. From wardrobe pieces to animation slides to movie posters to cars… I really get into it. What amazes me the most are the things people saved from old movies. Back in the day, everything was thrown out! Nowadays there's a known market for movie props and better ways to preserve and store items, so less needs to be rescued from the trash bin.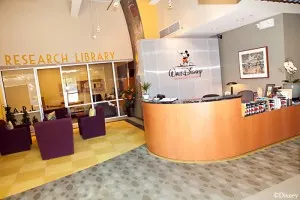 With the upcoming release of the Cinderella Diamond Edition Blu-ray and DVD combo pack on October 2, 2012, a group of bloggers were invited on a very special tour. Due to my slight obsession (I really wish I had money to collect iconic movie history!), I was super stoked about visiting Disney's Animation Research Library while I was in Los Angeles last month. Their location is somewhat secret so I felt very special being allowed to tour there. I wasn't able to take any of my own photographs though, so the photos I am sharing with you were professionally taken while we were there.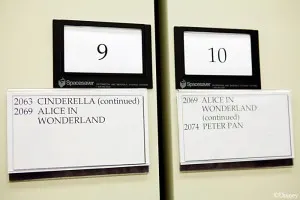 This place was amazing. It didn't have racks of costumes, props, and things like that since their focus is preserving animation – sketches, 3D models, glass planes, etc. They catalog and protect over 60 million artifacts! All of the vaults have various storage systems with temperature and humidity controlled rooms to help prevent the artifacts from decaying. While they house materials for all Disney animated films, they brought out several Cinderella pieces to share with us.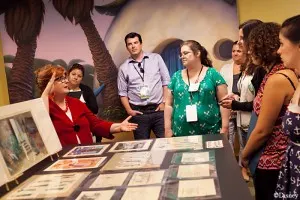 During our tour we were shown the process from start to finish – how they catalog, digitally back it up, and store each item. Many of the artifacts are quite fragile due to their age and previous handling so they are working through to digitally photograph/scan iconic animation slides. This way when someone wants to reference an older piece of work they can access it online rather than coming down and handling it. Saves time AND preserves the work. (You notice quickly that just about everyone is wearing white gloves.)
Sometimes restoration work needs to be done as well. I was in awe at the things I saw and I only caught a glimpse of the treasures stored there! Some of the coolest things I saw where the puppets from The Nightmare Before Christmas and other models, the glass panes that were used in multiplane cameras a long time ago, and the concept sketches for Cinderella's fairy godmother. The multiple plane cameras helped build more elaborately detailed shots, offered more depth, and created the ability to add motion effects. I was sad to find out that some glass panes were simply washed off and used again!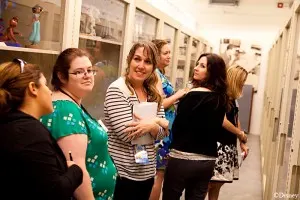 It was a really neat experience and a great reminder of the importance of preserving movie history!
What is an iconic movie piece you'd love to see in person?
______
Disclosure: I toured the above mentioned facility as part of an all expense paid press trip courtesy of Disney. No other compensation was received for this post and all thoughts shared are my own fan girl blabbering!
Photos are courtesy of Disney.