Heinz Vinegar and PAAS Egg Dyeing Kits were provided for our review and are the kits we remember from our childhood. My husband asked if any other company even makes egg dying kits. We've only know PAAS. Now our children know PAAS.

Decorating Easter Eggs
This is the first year we decorated Easter eggs with Rissa. Last year she still seemed too young for this activity, but now she is more interested in craft projects. We are still working on patience and containing messes.
When I was little, I remember dying eggs with my parents. There would be one Styrofoam cup for each color. I'd try to dunk my eggs using the dipper tool or a spoon. We never did anything too fancy, which was fine with me.
For Rissa, I decided to start her off with only two color cups… kind of like a test run activity. If it went well, then closer to Easter we will decorate some more and use another kit. This year PAAS has 7 new kits.
We received a classic kit (complete with easy measure cups), a Touch of Velvet Kit, a Doodler Kit, and Volcano Eggplosion Kit. I'm not sure we'll do the Volcano one this year. It looks really neat, but it involves melting crayon shavings and using hot eggs. The rest we can have a lot of fun with throughout the month!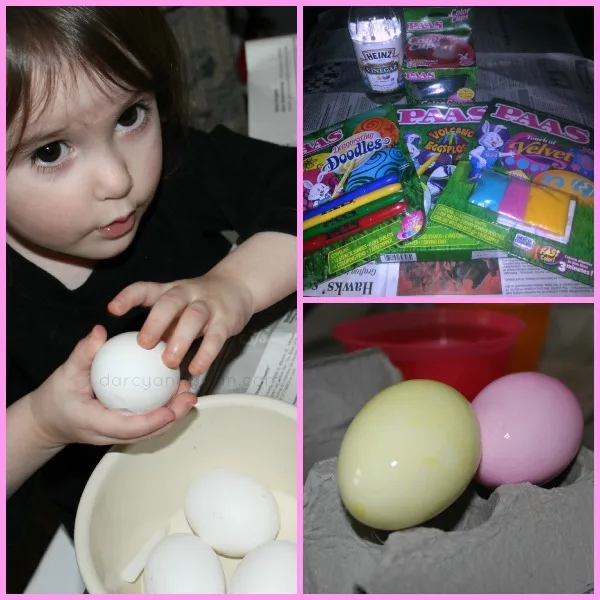 I spread newspaper over Rissa's table and let her color on the eggs with the "magic" crayon. Since she couldn't see what it was doing, she gave up fast and kept taking the eggs in and out of the bowl. She chose pink and orange to start with (but I think I used the yellow tablet). We ditched the dipper tool and let her use her hands. Waiting was the hard part. A few eggs visited both cups for a short period of time. She loved it though!
3 Easter Egg Dying Tips and Tricks
Prevent shells from cracking while boiling (and to peel off easier) by

adding two tablespoons of Heinz Distilled White Vinegar per quart of water before placing the eggs in the pot.

For really bright colors,

add one tablet and three tablespoons of Heinz Distilled White Vinegar to a PAAS Color Cup (or any cup you use). Once the tablet has dissolved, add ½ cup water and stir gently.

Use a whisk to help little ones get the eggs in and out.

(Thanks to Brandy for that tip!)
Virtual Easter Eggs
Looking for a fun way to decorate Easter eggs without the mess and help a good cause at the same time? Then checkout these virtual eggs!

Now through March 31, when you decorate and share a virtual Easter egg with family and friends using the free app, Heinz and PAAS will donate $1, up to $25,000, to Make-A-Wish®.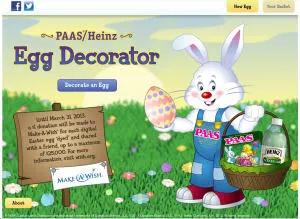 They are easy to decorate and share!
Simply search "PAAS/Heinz" in the iTunes App Store and download the app, or access it from your desktop or laptop computer at www.heinzpaaseaster.com.
Do you decorate Easter eggs with your family?
Disclosure: We received egg dyeing kits, vinegar, and assorted treats for review.