Listen up my fellow breastfeeding mamas, there is a brand new nursing pillow in town! It just recently became available for purchase exclusively at Babies R Us, but we had the opportunity to try it out for the past couple months prior to launch. Actually, my sister-in-law and her newborn did the majority of testing. We enjoyed having the chance to test it out before it was available in stores and having such a long time too. I wish we could take two to three months to try out products before writing a review more often!
Mombo™ offers a unique Firm2Soft™ design for better nursing support and positioning, plus a soothing vibration feature for lounging. Customize your mombo with an assortment of stylish slipcover fashions.

Choose multiple styles so you'll always have a spare!
We received the Mombo from the Comfort & Harmony line from Bright Starts. When I was pregnant, it seemed everyone loved the Boppy pillow. It was the pillow to register for and to make sure and buy if no one else got it for you. So, I got one and a spare slipcover (one to use; one to wash) and took it with me to the hospital. I was bound and determined to get this breastfeeding thing done right and proper positioning was key! I wanted to have my set up in the hospital as much like it would be at home as possible. Well, it didn't take long for me to get frustrated and ditch it for just a plain old pillow. The crescent shape allowed for a gap between me and the pillow which Rissa slid down into all the time. This made positioning harder and I kept finding myself leaning over her. I wasn't sure if it was just the shape or the shape in conjunction with my plus sized curvy self.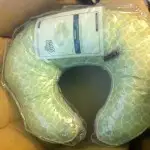 When the Mombo first arrived on my doorstep, I was skeptical about the shape. It seemed crescent-like, yet more U shaped. I think what really helps is the firmer side. Although it's hard to keep a pillow wrapped snug around me when it is being stretched a bit at the sides, the firmer side is flatter and keeps baby from rolling and slipping dwn into the gap. It also keeps baby from sinking in so much making it better for positioning and having baby at the right height. The firmer side is nice not only for breastfeeding, but also for bottle feeding. It helps to prevent mamas from having sore arms that fall asleep from holding and positioning the little one all around the clock.
The softer side feels nice and is great for tummy time or to prop baby up for some sitting. It can be a little tough to tell which side is which, but in most cases either side is just fine! My sister-in-law said she really likes the vibration feature. There is a small vibrating disc that you tuck into the slipcover. It gently vibrates the entire pillow, calming and soothing fussy babies. She said it definitely helps calm her little one down. She also used the Boppy with her other two sons, so I wasn't sure if she would continue to use the Mombo, but she has!
The cost seems a bit high, but non-vibrating pillows tend to cost about the same. It's nice having a soothing vibration that allows you to rest your arm/hand from bouncing or patting too. I'd also like to see it easier to tell the two sides apart at a glance, but not sure how to tackle that one. I'd suggest the slipcovers would come in handy there, but if it's put on wrong we are back at square one!
Giveaway! – Win a Comfort & Harmony™ mombo™ Deluxe Pillow in Pinehurst™ Fashion –
Pinehurst™ is soft and sophisticated. Styled in calming green, Pinehurst will effortlessly coordinate with any nursery décor or accessory item. Available at Babies R Us!
Log into the Rafflecopter form either with your Facebook account OR just name & email (this will help it remember if you entered already!)
Only required entry to enter is the main entry – the rest are optional extras.
Click "Do It!" to see the directions for the entry option. Read the instructions and complete them, then click "Enter!" to fill in the requested information. If you submit without completing tasks, your entries will be invalid.