When I was little, I pretty much equated Earth Day with recycling and planting trees. I think it was easier to involve a classroom in those types of activities. But, you can celebrate Earth Day in a variety of ways, including learning about animals. Learning about wildlife, their habitats and how to protect them are great ways to encourage children to learn about their world and how to treat it well.
Next week on April 18th, Disneynature Bears will be in theaters. Use this activity packet as a way to get the kids excited about seeing the movie, to facilitate discussions afterwards, or for Earth Day fun. A lot of the activities are geared more towards elementary school aged children, but you can modify some of them for preschoolers and toddlers. This free printable activity packet includes a bear mask, word search, bear trivia and more. There's even a cute picture of a mama bear tandem nursing her cubs.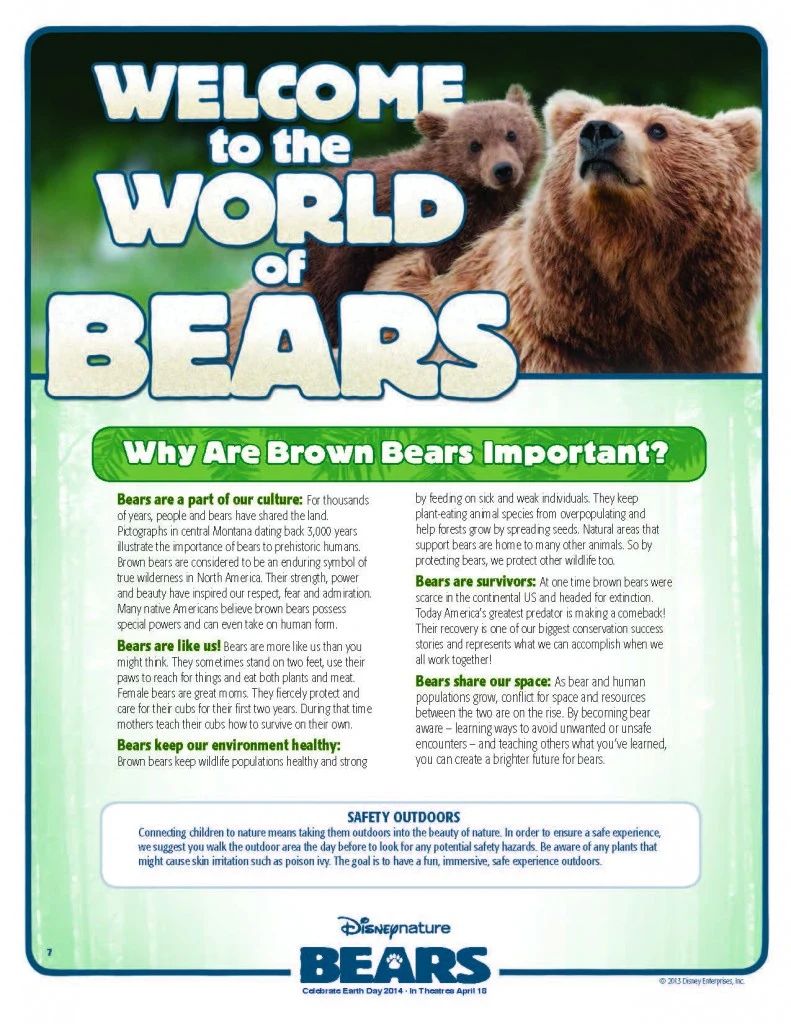 Click to download and/or print!
About Disneynature BEARS:
In an epic story of breathtaking scale, Disneynature's new True Life Adventure "Bears" showcases a year in the life of a bear family as two impressionable young cubs are taught life's most important lessons. Set against a majestic Alaskan backdrop teeming with life, their journey begins as winter comes to an end and the bears emerge from hibernation to face the bitter cold. The world outside is exciting—but risky—as the cubs' playful descent down the mountain carries with it a looming threat of avalanches. As the season changes from spring to summer, the brown bears must work hard to find food—ultimately feasting at a plentiful salmon run—while staying safe from rival male bears and predators, including an ever-present wolf. "Bears" captures the fast-moving action and suspense of life in one of the planet's last great wildernesses—Alaska!
Directed by Alastair Fothergill ("Earth," "African Cats" and "Chimpanzee") and Keith Scholey ("African Cats"), and narrated by John C. Reilly, "Bears" arrives in theaters April 18, 2014, to celebrate Earth Day.