I've mentioned before how I've struggled with my weight and self-image throughout my life. It's a shame, but the two really do tie together for me; however, I'm trying to turn that into a positive now. It's important to me to help my children establish healthy eating habits. Doing this requires me to model healthy eating as well as to offer healthy choices. All of our meals are not 100% healthy, but we try to be mindful of moderation. One area I've really focused on is snack time.
Snack time, in my opinion, is the easiest time to bring out the junk food. Sure, my daughter likes chips and cookies, but I try to reserve those as treats. I know she can get bored of having the same snacks over and over again, so I try to change it up. Adding some fun can encourage her to eat something she's unsure about, especially if I just denied her cookie request. Thankfully, she loves yogurt and asks for it frequently.
When I was younger, I used to baby-sit a little girl next door who loved Trix Yogurt. I remember this because it was when I started to like yogurt! They had such fun colors and flavors. It wasn't like the stuff I'd tried before. Fast forward to today… and I still love yogurt, but look for options that are healthy. I was surprised at how sugary some yogurts can be (but the flavors are so good)! When I learned that Yoplait Trix Yogurt made improvements to cut out high fructose corn syrup and artificial sweeteners and flavors, I had to try it again.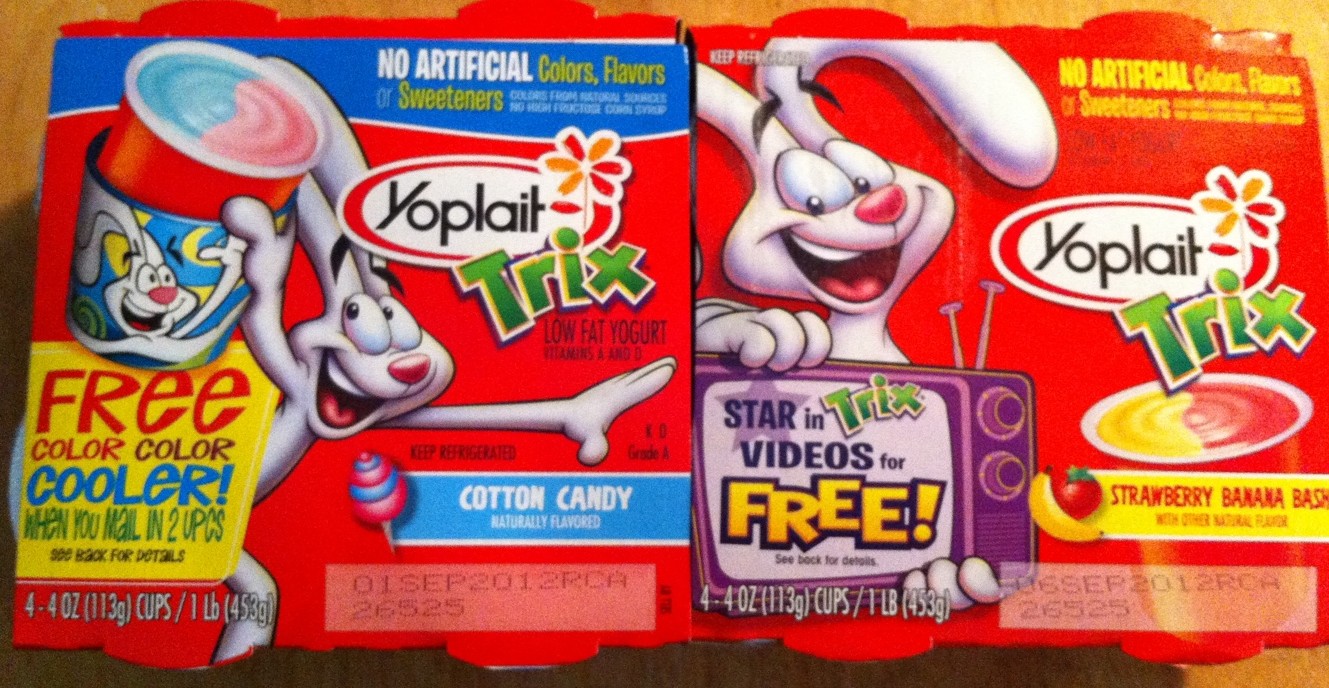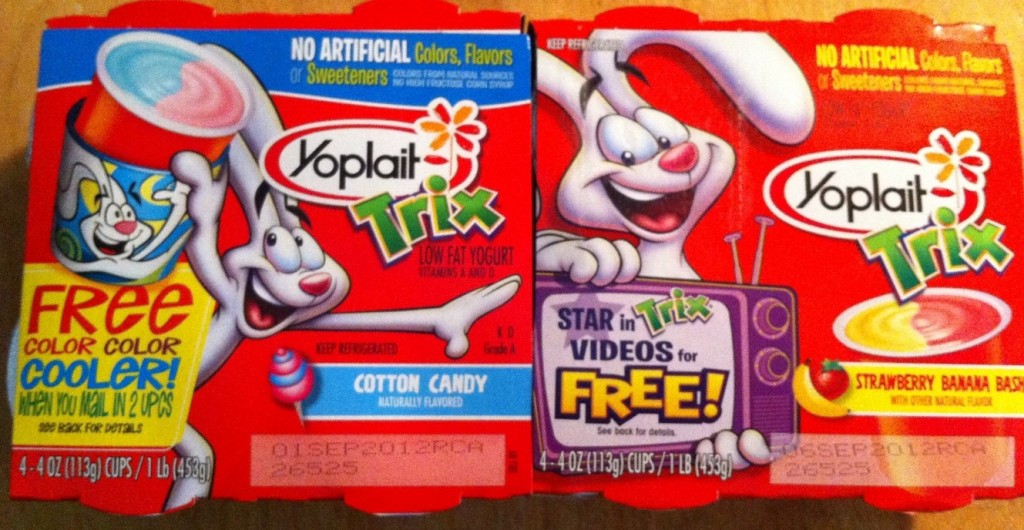 I picked up a couple multi-packs for $2 each at Walmart (and one even had a 55 cent coupon on it!). The portion sizes are a little smaller than we are used to, but it's kid-friendly in size. We bought Strawberry Banana Bash and Cotton Candy. I know, I know, cotton candy doesn't sound healthy, but I'd rather my family enjoy the flavor this way than with actual cotton candy!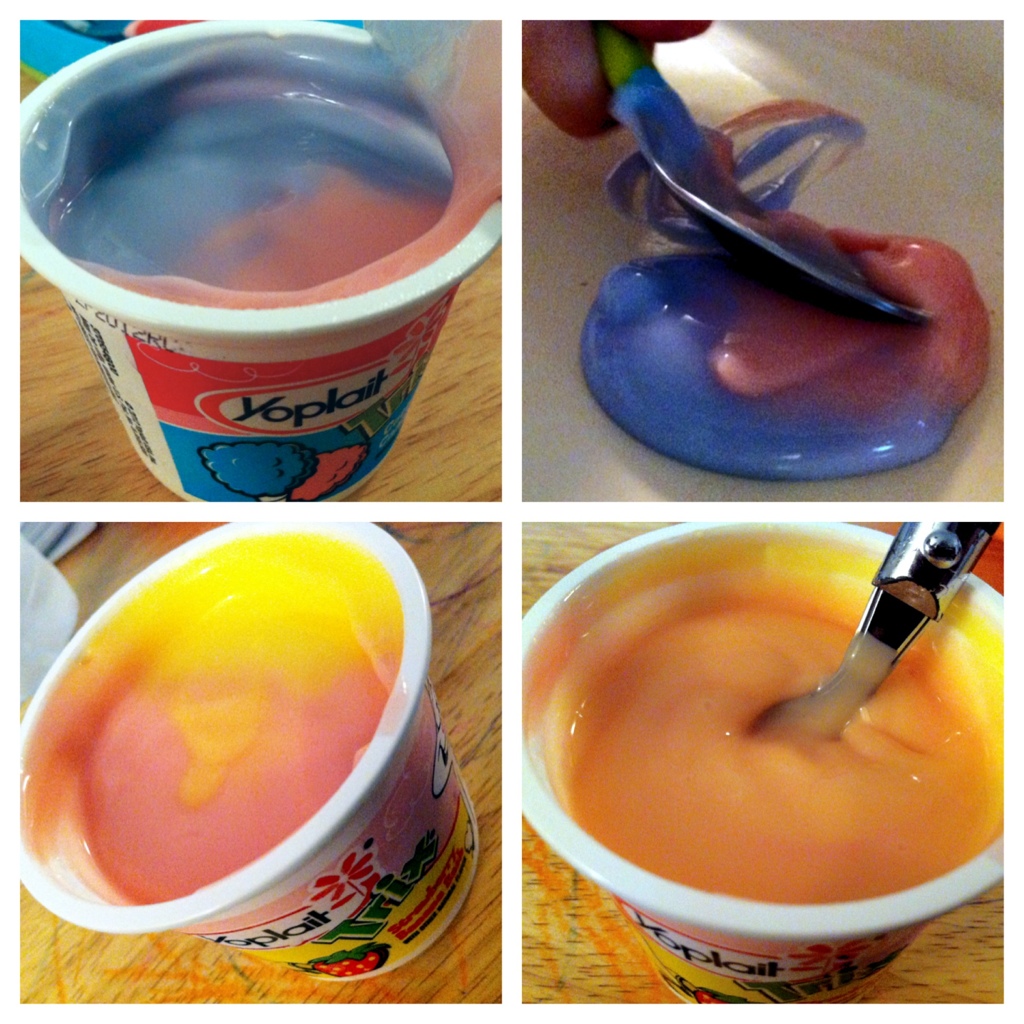 My daughter loved them! From the bunny on the container to telling me the colors she was eating. And when I mixed the colors together, oh that caused giggles and excitement. I tasted them too, and really liked the Strawberry Banana Bash flavor. Cotton Candy was yummy, but I felt like it couldn't be healthy for tasting so good. Rissa had the most fun mixing the blue and pink together though!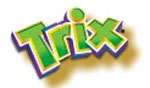 "Trix are for kids" but unwanted additives definitely are not. That's why Yoplait® Trix® Yogurt comes in silly, swirly flavors kids love, without high fructose corn syrup, artificial flavors, or sweeteners. It's still the same bright, fun, colorful snack, only better. You'll love that they love it!
Yoplait Trix Yogurt is definitely a healthy and fun snack that's even a bit educational when mixing the colors together. We try to have one yogurt a day for the protein, calcium, and other health benefits yogurt provides our bodies.
How do you keep snack time healthy, but fun?
______
Disclosure: Compensation was provided by General Mills via Glam Media. The opinions expressed herein are those of the author and are not indicative of the opinions or positions of General Mills.
Subscribe
Get weekly sanity saving parenting tips, recipes, and kids activities.