Yo Gabba Gabba! Live! Get the Sillies Out Ticket Giveaway #Milwaukee #YoGabbaGabba
You gotta jump! shake! shimmy! them out… Let's get the sillies out!
Oh yes, I am going to be THAT mom who will be singing all the Yo Gabba Gabba songs right along with my daughter while we are having fun at their LIVE show here in Milwaukee. And you know what? I'm okay with that.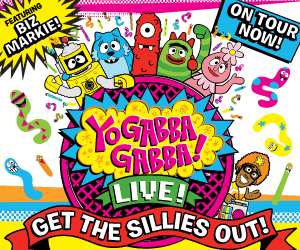 Yo Gabba Gabba! Live! Get the Sillies Out Tour
When: Monday, January 21, 2013 at 3pm & 6pm
Where: Riverside Theater in Milwaukee
Ticket information: http://www.yogabbagabbalive.com/events/65-riverside-theater-milwaukee
(They will also be in Chicago January 19th & 20th)
To see their complete list of tour dates please visit www.yogabbagabbalive.com
Ever since Rissa got interested (err, obsessed) with the Gabba Gang, we've been hoping for a live show to come through our area. Last fall my hubby and I saw that they were going on tour again in 2013 and waited anxiously for the listing. Once we saw they would be stopping through our area, we agreed we had to get tickets for it. The day tickets went on sale I got them. We were NOT messing around!
Seriously, this tour looks like it's a lot of fun. I think their live show is the children's equivalent to an awesome concert….I haven't been to a rock concert since a few months before getting pregnant with Riss. So, yeah, we are all looking forward to this!
Have you ever seen the show? It's a live action show that features music and dancing. It is varied to keep kids' attention and teaches about an array of things. My daughter (and I *ahem*) have watched Seasons 1 & 2 at least 10 times and have most of the episodes and songs memorized. We are now working our way through Season 3 and 4! Rissa likes to re-enact her favorite episodes with her Gabba plush toys even. lol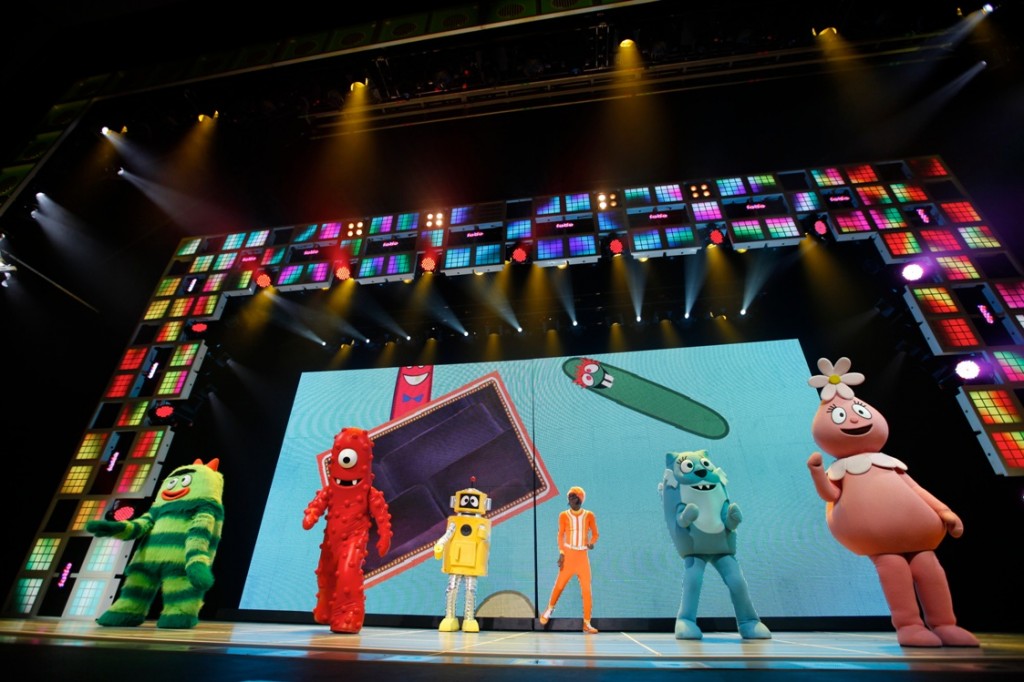 Yo Gabba Gabba! LIVE! is a state-of-the-art production and an interactive experience that offers audiences of all ages the opportunity to witness their favorite characters come to life when DJ Lance Rock and fans say the magic words, "Yo Gabba Gabba!". Hip-hop legend Biz Markie will join the cast on stage for Yo Gabba Gabba! LIVE!: Get the Sillies Out! with Biz's Beat of the Day. The show will also feature Super Music Friends and Dancey Dance guest performances. Past Yo Gabba Gabba! LIVE! guest performances have included Devenda Banhart, Cold War Kids, Matt Costa, Kid Koala, Moby, DMC (Run DMC), Shaggy, Snoop Dogg, Dave Grohl, Jon Heder, Talib Kweli, Mix Master Mike, Nicole Richie, Kid Sister, Keri Russell, Lou Diamond Phillips, Jason Reitman, Zac Brown and the Drive By Truckers and more, while Christina Aguilera, Jessica Alba, Jason Bateman, Travis Barker, Brendan Fraser, Heidi Klum, Chris Noth, Gwen Stefani, Brooke Shields, Dennis Quaid and others attended with their families.
I wonder who we'll see at the show on January 21st?!
After the show we'll be attending the VIP Party where we get to meet the characters!
Okay, now that I've got you pumped, here are the giveaway details…
Giveaway!!
We are giving away 4 tickets to the 6pm show in Milwaukee!
Giveaway will end on 1/14/13 at 11pm CST. Winner will have 24 hours to respond to notification email or a new winner will be drawn.
Tickets will be available at will call one hour before showtime. We do not know where the seats will be located since they will be pulled the day of the show.
To enter to win leave a comment telling me who your favorite character is or a favorite episode!
Will you be there? Hope so because listening and dancing to music is AWESOME!! 
Ticket information: http://www.yogabbagabbalive.com/events/65-riverside-theater-milwaukee
______
Disclosure: We purchased tickets to the live show and are receiving VIP party passes for helping with promotion. We love YGG!
Subscribe
Get weekly sanity saving parenting tips, recipes, and kids activities.