Working Towards a New and Improved … Me in 2013
Before I can start listing out my personal goals for 2013 and develop my plan of attack… err action, I must first look at last year's list. What did I accomplish? What is still in progress? What needs to be revised? It's kind of sad, but I forgot about several of them until just a few moments ago. Eesh, that's not good. Not good at all. And what about the countless other goals I've set throughout the year? Well… let's just say… they are floating about. Some completed, some not.
Anywho, the biggest goal on last year's list that has been completed was adding Xander to our family! I tell ya, when I added "Conceive Baby #2" to the list, I didn't think it would actually happen so quickly.
Personal Goals
Lose weight / Be more healthy / Exercise regularly
This is absolutely number one on my list. I do think cooking at home more will make a difference, even if we aren't making the healthiest of options. Starting this goal in winter in Wisconsin makes the exercise bit a tad more tricky. Our daily walks are on pause until it warms up again… well enough to get rid of the snow. In the past I was hesitant about actively trying to lose weight while pregnant, but I can't wait until I'm done having babies and done nursing before getting healthy. My doctor is aware that I can't drop weight fast, but has stressed the importance of losing weight for my health… especially to prevent developing Type 2 diabetes. When I brought up nursing he simply said that he'll take ANY weight loss I can do.
I can no longer hide my head in the sand when it comes to my weight, my health, and what I'm eating. I admit that I've been freely eating whatever I want since Xander came knowing it would be short lived. Still, after limiting myself throughout my pregnancy to control my gestational diabetes, I felt I deserved to be rewarded with some carbs!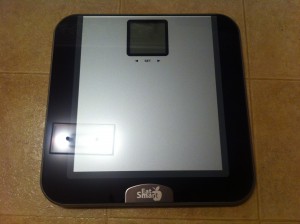 Well, my starting weight is 224.4 pounds. I'll be tracking my weight loss using my new EatSmart Precision Tracker Digital Bathroom Scale. So far I've found it consistent with my weight readings and love how it knows who I am without having to tap through different profiles. It'll make my weekly weight loss update posts easy for me too since it will show me my current weight, how much it has changed since the last weight in and how much change total from my starting weight. Now, let's see if I can stick to just a weekly weigh in. Now, I need to lose 100 pounds to reach my ideal weight range. To keep my milk supply I will have to do this slow and steady, so I'll be happy if I can lose 20 pounds by the end of December 2013.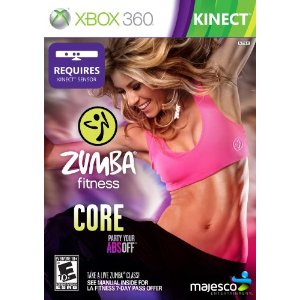 For working out, well, once it is nice weather we'll resume our daily walks of 1-2 miles a day. During the winter (and beyond) I'll utilize fitness games with the Kinect such as Zumba Fitness Core, Dance Central 3, and Your Shape Fitness Evolved 2012. I'm really looking forward to Zumba Fitness Core kicking my butt. The previous Zumba Fitness game was a challenge but a great cardio workout for me. Now, this one will help me work on my core – which needs it! I mean, I do have a jiggly soft belly where Xander used to hang out you know. And to help track my activity I'll be checking out my new Striiv pedometer. The goal is 10,000 steps a day (equivalent of about 5 miles). I think I can do that!
And how am I going to hold myself accountable this time? Why, by joining the Mamavation Sistahood!
More homecooked meals
We've made great progress here. Now to keep it up! Since I need some hand holding and simplification when it comes to meal planning, we've started using eMeals. I started out with a 3 month subscription at the end of November. So far we like it. I'm also planning to start using the crockpot more and have been pinning crockpot recipes like there's no tomorrow! Maybe we'll never have to "cook" again? Nah…
As for dining out… I think we'll scale that back to no more than twice a month.
Save money / pay down debt
By meal planning and not dining out as often we'll definitely be saving money. For paying down debt, my goal is to eliminate another one of my credit cards by the end of the year. I want to pay it off and chop it up!
Charitable giving
We donate items frequently, but I want to make sure we continue to do so and not just during the holidays. I plan to continue doing a Bag it Forward donation each year, baby item donations to our local Community Baby Shower in January each year, and donating toys during the holidays. I also want to do some (random?) acts of kindness throughout the year. Maybe I should call them surprise acts of kindness?
More Me/We Time
I got to read a few books for leisure this past year and it was lovely. For awhile I made time to read almost every night, but haven't been able to do that now for about a month at least. I want to get back into this habit and read 5 books in 2013. I know that number seems low, but for now it's realistic for me. My time gets pretty filled in other places and I spend a lot of time reading children's books. I want to finish books 4 and 5 of the Game of Thrones series and I want to finally read the 50 Shades trilogy to see what all the hype is about. Oh, and then I want to read the Wizard of Oz books… and whatever else strikes my fancy.
For WE time… man, I have been REALLY bad about this. We do have quality time even with the kids around, but our alone time is few and far between. I'd like to see us have a date night once a month rather than only when I'm invited to a movie screening.
Improve my Gentle Parenting skills
You probably have figured out by now that we are attachment/natural style parents. Our approach is very much in line with several attachment parenting principles. Regardless of our style… we're not perfect. I'm certainly not perfect and I let my anger and frustration spill over in ways I don't like. I really don't want to yell at my kids so much. I really don't want to "snap" at them. I really don't like how I take undesirable behavior personally. I know better, yet my reactions reflect that. Instead of being calm, I react strongly verbally. I'm not quite sure how to measure this one just yet….
What are your personal goals for the coming year?
______
Disclosure: I received Zumba Fitness Core, the Eat Smart scale, and an eMeals subscription for review purposes. I will be working on the Striiv review soon. No other compensation was provided.
Subscribe
Get weekly sanity saving parenting tips, recipes, and kids activities.