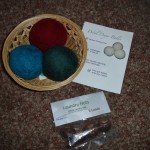 I have been wanting to try wool dryer balls since I switched to cloth diapers. I've tried to win them by entering giveaways. I was uncertain of buying them since I'd also read some horror stories about ones that fell apart, rendering them useless. I was quite excited at the opportunity to try a set from The Willow Store!
Here's some information about them:
We are committed to the Reusable Movement. The Earth is not disposable—and we need to treat her with the respect that she deserves, with reusable products that are sustainable for the environment and our economy. Reusables are our future, and we are passionate about making a difference, for our children, and for the Earth.

Over the last five years, The Willow Store has grown immensely. From a small, mom-inspired practical idea to a full-time, small network of women, The Willow Store is thriving!

Dryer balls: Softens laundry naturally, without chemicals. They're handmade in the US. 100% Wool Dryer Balls are the natural solution for softening your clothes without chemicals. Made completely from US wool, they help your clothes (and cloth diapers!) tumble dry softly, and reduce the drying time by up to half. Great for all laundry. To use, simply toss 2-3 balls in your wet dryer and start. No need to remove them from the dryer, just reuse! Available in cream or hand dyed – colors are safe and won't bleed onto your laundry.
I love working with mom owned businesses! Also, The Willow Store is in my own state of Wisconsin, which is pretty cool.
Wool Dryer Balls Review
Originally I wasn't going to finish my review of these for another week or two, but I thought Earth Day would be fitting. Plus, I do laundry very often in this house – every couple days at least! And always a couple loads! There's clothes, cloth diapers, towels… goodness. You know this child goes through clothes, bibs, and burp cloths like crazy due to drooling and spit up. Diapers need to be washed frequently to minimize stink and stains. (Plus, I want my favorites to be clean to use again and a again!)
In other words, these wool dryer balls have gotten quite the workout in just two short weeks.
I didn't notice much of a decrease in drying time, if at all. This may not be the fault of the dryer balls. I swear our dryer hates me as I've had to run it 2-3 times lately to get everything lightly damp to dry. I was hoping the balls would help speed this up, but I think they'd work better in a better dryer. (I really think ours is going downhill.)
They have held together wonderfully. The wool has pilled a bit, but that's normal. I have one that was the victim of a diaper velcro tab. I cut it off and it's still working. Stupid laundry tab didn't stay put!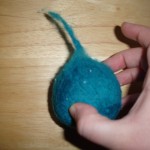 What I did notice was the towels weren't so stiff and scratchy. I stopped using dryer sheets because I didn't want them getting on the diapers nor did I want them all over Rissa's clothes. Then I realized my clothes and the towels also come into frequent contact with her delicate skin… well, the downside to not using dryer sheets is the lack of fabric softener and fluffing… resulting in stiff, scratchy towels.
With the dryer balls, they fluff things up, counteract (or attack or otherwise destroy) static, and leave our laundry a tad softer. They have provided the desired effect of using fabric sheets without using fabric sheets. Yay! So, my wool dryer ball testing is plausible! (Sorry, Mythbusters crept in there!)  I need to continue testing drying time – maybe add in another set of balls. I do like them in place of dryer sheets so I'll keep using them!
Laundry Nuts Review
I also received a sample pack of Laundry Nuts to try out. These five nuts are supposed to be good for up to five washes. I tried them on regular laundry and cloth diapers. I honestly am not sure how well they worked. They are supposed to naturally clean in the wash. After running my clothes through the wash cycle with them once, the sniff test was stinky. I may have been more critical with my sniffing… but I don't usually sniff my clothes after washing with my detergent. I ran them again and it was better! My diapers seemed fine after one run through of my normal wash routine (with only the nuts replacing my detergent).
I wasn't entirely sure if the Laundry Nuts were supposed to stay in the washing machine through the rinse cycle too, I left them in there. If I was supposed to take them out…that would have been a chore…fishing them out. I actually missed one that ended up in the dryer. My Laundry Nuts testing – inconclusive. I'd need a bit more time and some more nuts to honestly say one way or the other. Detergent build up in my clothes and/or residue in my washer may throw things off for my short test too.
Giveaway over
______
** FTC Disclosure: I received the product(s) mentioned above free of charge by the company or PR representative in order to conduct an honest review. I was not compensated in any other way for this post. The thoughts, experiences, and opinions included are entirely my own and may differ from that of others. I am not liable for any issues you may incur from use of said product(s).
Subscribe
Get weekly sanity saving parenting tips, recipes, and kids activities.