Why I'm in Love With My Iris Cross Body Diaper Bag by Amy Michelle
I am so excited to share one of the newest additions to Amy Michelle Go Totes! They recently introduced several new bags for work, travel, students, and babies. I received the Iris diaper bag to review in charcoal floral. This new style and pattern became available at the beginning of this year. The floral is a little louder and more bold than I normally would select, but I'm feeling more bold this year! I'm not going to fade into the shadows. Heck, no! I'm a mom and proud of it. And yes, my bag is faboulous!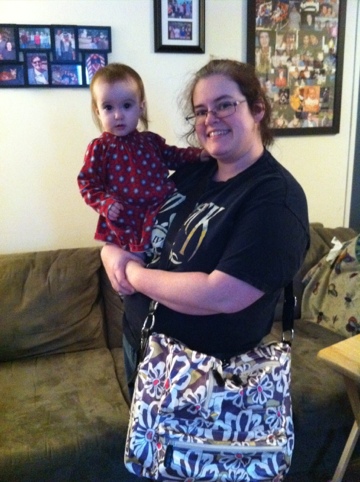 For years I wore cross body purses. I seem to have an issue with keeping straps on my shoulders, so bags are always sliding down. It's super annoying and hard to free up my hands that way, so cross body was perfect for me. When I worked in rough neighborhoods I also knew the cross body would deter purse snatching because it'd be too much work to get it away from me. So after years of slingin' my purse across my chest, I ran into a major issue after Rissa was born.
For a few months I insisted on continuing to lug around a purse AND a diaper bag. Ugh. Do you know how awkward it gets trying to wear a purse and sling a diaper bag over your shoulder? It was a royal pain in the rear, especially since I had to have both bags on the left side of my body. Then I started putting my purse inside the diaper bag, but it took up precious real estate. Eventually someone clued me in that my diaper bag was now my purse…
My first diaper bag was a gift. I liked how it looked, but quickly discovered it didn't fit much inside of it. I started dragging around two diaper bags (yes, I was a new mom bag NIGHTMARE!). Then, last summer I was blessed with the opportunity to work with Amy Michelle and reviewed the Lotus diaper bag. I really like that bag. I do have the "stay on my shoulder" issue when wearing a jacket and other times it will slide down, but it's been a great bag. I have been extremely impressed with the quality and functionality of it. It also looks stylish! (And it still looks new despite it being my go-to bag!)
Then… then Iris arrived. And let me tell ya, she's a beaut!
She holds all our outing essentials…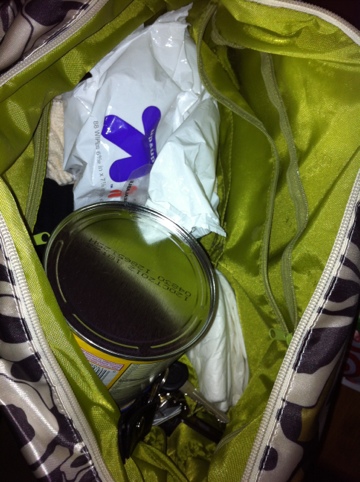 I transferred everything over and stil have some room. I was surprised because the bag looks smaller from the outside. It's not as poofy and wide as the Lotus, I think. There are three zippered areas on the front of the bag, perfect for holding mom's stuff! Inside has pockets for organizing and zippered areas too. There are snap straps inside for your keyring and/or pacifiers. There's a changing pad, antimicrobial lining, stroller straps, and a zipper that goes around the bottom to expand/contract the size. Oh! And the strap! There is one adjustable strap so you can wear it over the shoulder OR cross body.
Least favorite feature: Lack of an outer pocket on each end. I miss the pockets on the Lotus. They were easy to reach into for lotion and hand sanitizer. I mistakenly thought this one had zippered pockets on the sides, but it's actually a zipper that expands the bag.
Favorite feature: The cross body strap! I have never seen a diaper bag with a cross strap. I've seen shoulder and backpack types. The strap is not cushioned like some of the shoulder ones are and it can rub your neck a bit like a seatbelt, but it makes it so much easier for me to get Rissa ready, in & out of the house and the car. I no longer have to pull the "put my knee up for a pseudo shelf as I rummage through the bag, whereby almost tipping over repeatedly" act.
Price Point: The Iris retails for about $100. This may seem pricey, but I've learned that diaper bags are not cheap… especially the good ones. I believe the price of Amy Michelle bags is very reasonable considering the functionality, style, and quality. The bags are well made, they look fantastic, and they don't scream diaper bag. You could use it for a large work bag after the diapers and sippy cups are long gone too.
Purchase Amy Michelle Go Totes at www.amymichelle.com and connect with them on Twitter @amymichellebags and on Facebook!
Subscribe
Get weekly sanity saving parenting tips, recipes, and kids activities.