What My Kid Does That Drives Me Crazy [Video]
I love my kids, but as my daughter grows into her strong personality there are some things she does that drives me crazy. Nutters. Completely bonkers.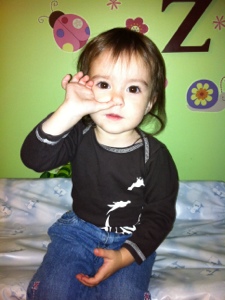 Sometimes she literally rubs me the wrong way. Have you had anyone try to just rub the webbing between your thumb and finger for more than 5 seconds?
Omg it is so irritating and annoying. Same with repeated rubbing on the top of my breast while she nurses. Maybe I'm having a sensory issue but Ahhh stop rubbing!
That's still not what drives me totally nuts though. I saved that for the video. First you get to see Xander then I tell you about Rissa's gross toddler habits that drive me insane. If she only knew just how nasty things she likes to poke at are….like the drain and the toilet.

(Video)
What do your kids do that make you crazy?
Subscribe
Get weekly sanity saving parenting tips, recipes, and kids activities.