We Brightened a Child's Holiday! #DisneyCFK #CBias
Remember how I told you that I was paying it forward this year? That I had received help with presents when I was little and now I wanted to help give back to a child in need? Well, I wanted to share what we bought!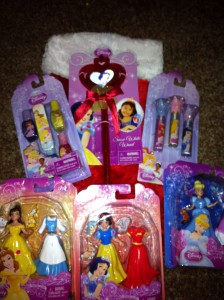 I originally set out to fill a stocking with gender neutral Disney toys so that a girl OR a boy could receive it at the Sojorner Peace House. I was uncertain where to donate it and searched online for some ideas of local agencies. I knew it was too late to get a name from a giving tree, but there had to be toy drives going on still! When I saw the information for the Sojorner Peace House holiday drive, I knew that's where I wanted to donate the stocking. They are an organization that provides shelter and assistance for women and children affected by domestic violence.
While I had my not-so-great childhood moments and memories, I could not imagine having to stay in a shelter after enduring and/or witnessing domestic violence in my home. Those children, to me, definitely need some extra hope during the holidays. It must be confusing and scary, right? I only hope the Princesses will help bring inspiration and comfort. And enjoyment too – I want them to have fun.
Shortly after I stuffed the stocking, I started looking around the house at some other like new and unopened items to donate. Once I got started I was on a roll and filled two medium boxes with toys, baby clothes, and personal hygiene items. All things that they could use at the shelter. I did have to remove a few things from my donation pile after re-reading the shelter's guidelines. It seemed they only wanted new items. Some of the clothes were gently used, so I pulled them to donate elsewhere.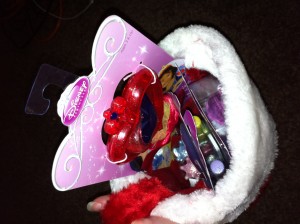 To see my complete shopping trip and all the Disney items I considered getting, please view my Google+ photo album.
I think next year I'll have to do two princess stockings! It honestly felt really good to help them out. I wished I could hand it over directly to a child, but I knew that wouldn't be fair. As it was, we had to drop off the holiday donations to the United Way. The shelter doesn't freely give out their address (understandably so). I am a little bummed because I saw one of the volunteers taking my stocking apart. They had to sort out all the toys, so I couldn't actually give the stuffed stocking to just one child. But that's okay though – this means a few children should have received the Disney Princess toys from us and had a magical Christmas! Oh, it will be fun once Rissa can help me shop for toys to donate!
To see how you can get involved in helping children in your community, please visit Championsforkids.org.
This is going to become one of our holiday traditions. Want to join me in doing this each year? Putting together at least ONE full stocking to donate to a child in need?
________
Disclosure: This shop has been compensated as part of a social shopper insights study for Collective Bias. All thoughts are my own!
Subscribe
Get weekly sanity saving parenting tips, recipes, and kids activities.