TV Series DVD Set Review | Futurama Season 6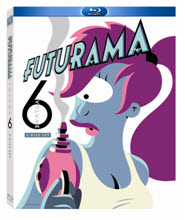 Futurama Season 6 on Blu-Ray and DVD
Release Date: Dec. 20, 2011
Special Features (Blu-ray and DVD):
Deleted Scenes
Audio Commentary
Professor Farnsworth's "Science of a Scene"
Reincarnation Explained! With Director Peter Avanzino
Futurama F.A.Q. (Frequently Axed Questions)
Christopher's Big Score: The Music of Futurama
Futurama Fans: 101 Questions
Synopsis:
Fry was a mid-twenties nobody pizza delivery boy when he was accidently cryogenically frozen for 1000 years. He starts over in New New York as an interplanetary delivery boy at Planet Express. Here he gets into shenanigans with the rest of the crew which features a foul-mouthed booze-loving robot named Bender, a female one-eyed mutant named Leela who captains the ship, and Professor Farnsworth, an elderly mad scientist who is actually Fry's nephew.
My Review:
If you aren't familiar with Futurama, you may not be aware that it ran on Fox for a few years, was cancelled, then reruns aired for a few years with some straight to DVD production before being picked up again by Comedy Central. The zaniness of this show continues and it's awesome that it's been renewed for a 7th season. It's one of our favorite animated (adult) series. I love the way it blends dumb and smart humor with a dash of geekery. My favorite characters are Fry and Leela, though Bender comes in at a close third. There are some running jokes throughout Futurama that will pop up from time to time. While you don't have to watch all of the episodes (or even in order), you will understand broader character development if you do, such as the ups and downs of the love tension between Fry and Leela.
While this show is not created for kids, it's pretty family friendly. Or maybe it seems that way to me since any fighting is usually with aliens (though they often try to resolve what's going on). My favorite episode is Yo Leela Leela where Leela ends up with a children's show after a visit to the Orphanarium she grew up in. I've often wondered how one could develop such successful children's characters and songs! I'm not going to spoil it for you though, but I suspect they are spot on with how the whole thing works.
Recommended – If you enjoy The Simpsons or crave humorous science fiction, then you will likely enjoy Futurama!
Subscribe
Get weekly sanity saving parenting tips, recipes, and kids activities.