Trick or Treat: Willy Wonka Chocolate Bars Review
The Trick or Treat Halloween Hop will be here 10/28 to 11/2, so be sure to come back and enter! You can see some of the wonderful prize sponsors for the participating blogs here. Now, please take a moment to get to know one of our sponsors:
Willy Wonka
If you know me at all – even just a teeny bit – you know that I love chocolate. I like it plain, with mix ins, and pretty much any variation other than dark chocolate (we aren't good friends yet!). I'm excited to share that a virtual trick or treater will be winning so much delicious chocolate. I mean, Willy Wonka is the good stuff. The kind of stuff you swap out costumes for to hit the house up again! (Not that I ever did something like that….)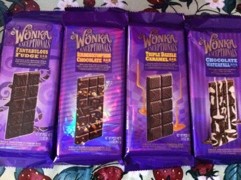 Mmm. Yes. Chocolate.
Of the four flavors I received for review, two were brand new!
Triple Dazzle Caramel (NEW): milk chocolate filled with luscious caramel, dazzled with sea salt
Fantabulous Fudge (NEW): milk chocolate stuffed with delicious fudge, like your own personal bar of truffles!
Chocolate Waterfall: milk & white chocolate cascading together
Scrumdiddlyumptious: delectable chunks of toffee, crispies and peanuts drowned in rich milk chocolate
I was able to sample three of the four flavors… Brian confiscated the Triple Dazzle Caramel for himself, which he said was very good. They were all very delicious! The chocolate is smooth and rich. It doesn't melt too fast in between your fingers if you like to break off the squares to savor the bars more slowly. I really liked the Fantabulous Fudge – each square had a soft and chocolatey inside. I'm a fan of molten chocolate lava desserts, so I appreciated these.
My favorite overall though? Scrumdiddlyumptious. The texture and flavors offered by the toffee and crispies is phenomenal!
It may surprise you that this was my first time having Wonka chocolate bars (it's true!). I've enjoyed other Wonka candies, such as nerds, for years though. I always thought the price of the bars was a little high compard to other chocolate fixes I could get. But, you are paying for quality (and they aren't that expensive around here).
Now go have some fun in the Imagination Room and enter the Golden Ticket Sweepstakes!
What's your favorite flavor?
______
FTC Disclosure: I received the product(s) mentioned above free of charge by the company or PR representative in order to conduct an honest review. I was not compensated in any other way for this post. The thoughts, experiences, and opinions included are entirely my own and may differ from that of others. I am not liable for any issues you may incur from use of said product(s). Images used are owned by me or provided with the company's permission unless otherwise sourced. See full disclosure information. If you have any questions you can contact me or leave a comment.
Subscribe
Get weekly sanity saving parenting tips, recipes, and kids activities.