Trick or Treat: Kernel Season's Popcorn & Seasonings Review
The Trick or Treat Halloween Hop will be here 10/28 to 11/2, so be sure to come back and enter! You can see some of the wonderful prize sponsors for the participating blogs here. Now, please take a moment to get to know one of our sponsors:
Kernel Season's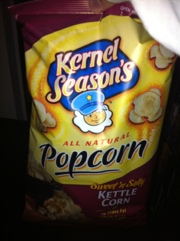 Do you like popcorn? I love it. I go through stretches when I don't have any for awhile, but I ate popcorn almost daily while pregnant. Yum. I like salty and buttery, cheesy, sweet Kettle corn, mixed with chocolate pieces, and so much more. Love, love, love popcorn. So, I was more than thrilled to work with Kernel Season's, the nation's #1 brand of popcorn seasoning! This company started out of a college dorm room in Michigan, where Bryan Taylor used to make his own seasoning blends for popcorn. He has continued his quest to eliminate naked popcorn! They have preseasoned bags of popcorn, popping corn, butter oil, 10+ seasonings, and various popcorn accessories.
Surprisingly, I've never tried Kernel Season's before. I confirmed it's available locally, and good thing because I am hooked! If they aren't in stores near you, no worries… Youou can order online! They offer free shipping for orders over $40 as well as some different savings packages, such as buy 5 bags get the 6th free.
I was going to do a nice shot of all the popcorn goodies displayed. However, I barely managed to get a picture of the Kettle Corn bag before hubby and I tore into it shortly after it arrived.
I was pleasantly surprised at all the goodies I received:
4-4oz bags: Kettle Corn, White Cheddar, Real Butter and Zesty Chipotle Nacho
16oz bag of popping corn
2.5 oz can of spritzer butter
10 oz bottle of movie theater butter oil blend for popping & topping
5 2.7 oz seasonings: Ranch, Nacho Cheddar, White Cheddar, Butter and Kettle Corn
I wish I could say I've sampled everything so far, but we haven't had a chance to pop popcorn yet. We have thoroughly enjoyed 3 bags of preseasoned popcorn and tried some of the shake on seasonings. I can't pick a favorite of the preseasoned but I'd say the Kettle Corn was really hard to put down, for me and my husband! I enjoyed using a couple shake ons with the Butter flavored popcorn. The seasonings can be used for other things too, such as on potatoes, veggies, meat, pasta, chips, etc. They also have sweet flavors like chocolate marshmallow. Mmmm. I'd like to use that in milk or on pancakes. Oooh or over peanut butter banana toast!
I'm going to continue enjoying what we received and promptly head to the store for more once it is empty. I think I should make a few popcorn balls, don't you think? Ooh or a candy, popcorn, drizzle mix. Yum!!
What's your go-to seasoning or flavor?
______
FTC Disclosure: I received the product(s) mentioned above free of charge by the company or PR representative in order to conduct an honest review. I was not compensated in any other way for this post. The thoughts, experiences, and opinions included are entirely my own and may differ from that of others. I am not liable for any issues you may incur from use of said product(s). Images used are owned by me or provided with the company's permission unless otherwise sourced. See full disclosure information. If you have any questions you can contact me or leave a comment.
Subscribe
Get weekly sanity saving parenting tips, recipes, and kids activities.