Tiny Love Super Mat and Musical Stack & Ball Game Elephant are Fun for Babies and Toddlers
Tiny Love is quickly becoming one of my favorite brands for baby gear and toys. Everything we've received from them has been great quality and useful beyond one developmental stage. With Rissa I got used to her growing bored with toys fast and always feeling like she was 2 steps ahead of what I picked out for her. Don't get me wrong, she has a lot of great toys, but some really are only useful for a short period of time.
We recently received Tiny Love's Super Mat and Musical Stack & Ball Game Elephant. They are intended for baby #2 (who isn't quite here yet), but I enlisted Rissa to help me check them out. I wasn't sure how interested she would be in either of them since she is much older than the recommended age, but she did have a lot of fun. I figure if she's able to find enjoyment in these at her age, baby boy should like them too!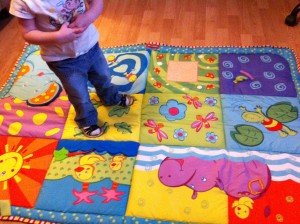 The Super Mat is a large cushioned activity mat with bright colors and a variety of textures. It will be perfect for tummy time! We took it along to my parents' house since they no longer have carpeting in the living room. Rissa had a nice, comfy play space at their house. At night we folded it up when we put away her toys, and the next morning she put the mat down first. This will definitely get plenty of use when the new playroom is built and to take along while traveling. That way I just don't have to worry about what I'm laying him down on.
The elephant was the big surprise winner. I pulled it out to take some pictures, but didn't think Rissa would be too interested in it. I think part of her curiosity and enthusiasm was just the fact that it was new. That and when I put it away out of her reach… she didn't like that. Anyway, as soon as I took it out of the box she was hovering over me asking, "What's that? What's that, Mama?"
I set it on the floor in front of her.
"Ooh! Elephant!"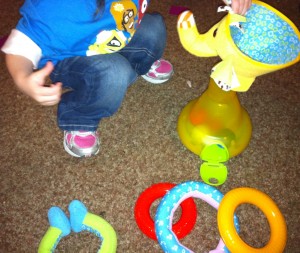 She promptly took the head and all the rings off, which have a variety of textures. After we stacked the rings I showed her the balls. Rissa danced around singing and shaking them because they reminded her of the maracas at her storytime class. Dropping them into the elephant they hit a big button that turns on lights and music. Rissa really likes to fill containers repeatedly, so the balls kept her occupied for awhile.
When she seemed to lose interest, I put the elephant away. She's asked to play with it several times since then. Hopefully she'll play nice with her brother once he's old enough to use it! I just have to watch to make sure the elephant is latched shut so we don't lose the balls. The little door opens pretty easily which is good for little exploring babies.
_____
Disclosure: We received both products to review. I keep working with Tiny Love because we LOVE their products!
Subscribe
Get weekly sanity saving parenting tips, recipes, and kids activities.