The Struggles of Having a Small Kitchen
Would it shock you if I told you my kitchen is an organizational nightmare? It truly is. We struggle with clutter and lack of space… and not knowing how to utilize the space we do have. I think this has been an issue all my life, in all honesty. Having kids has only made it exponentially worse!
I can't express to you enough just how small our kitchen is and the lack of counter space. It's quite difficult to prepare meals because there's no room to spread out. Instead, we're trying to balance dishes and ingredients precariously about the little space we have. Now that Rissa is getting older and growing taller, she presents an extra challenge – she reaches her little hands up onto the counter. Numerous times my heart has done flips because of her blindly reaching for something. We've lost a few meals this way.. dumped all over the floor.
Since I never think to take pictures while my kitchen is very clean, I don't have good visuals to share with you. I really didn't want to take too many pictures when it was a mess (which is its normal state – where can things even go?!). So, I'll try to describe it. First off, it's a narrow kitchen. Our side door entry comes in with the fridge and a small counter on one side. On the other side is the stove and sink. There is a very skinny counter at the other end that runs along the cabinets, then we have a microwave stand. The kitchen has two other doorways: one opens to the living room, the other to the basement and hallway.
Wait, you know what… let's be real here. I found a picture I took at the height of clutter mayhem the day we got rid of the table. It's embarrassing to me, but you have to see what we're working with space-wise…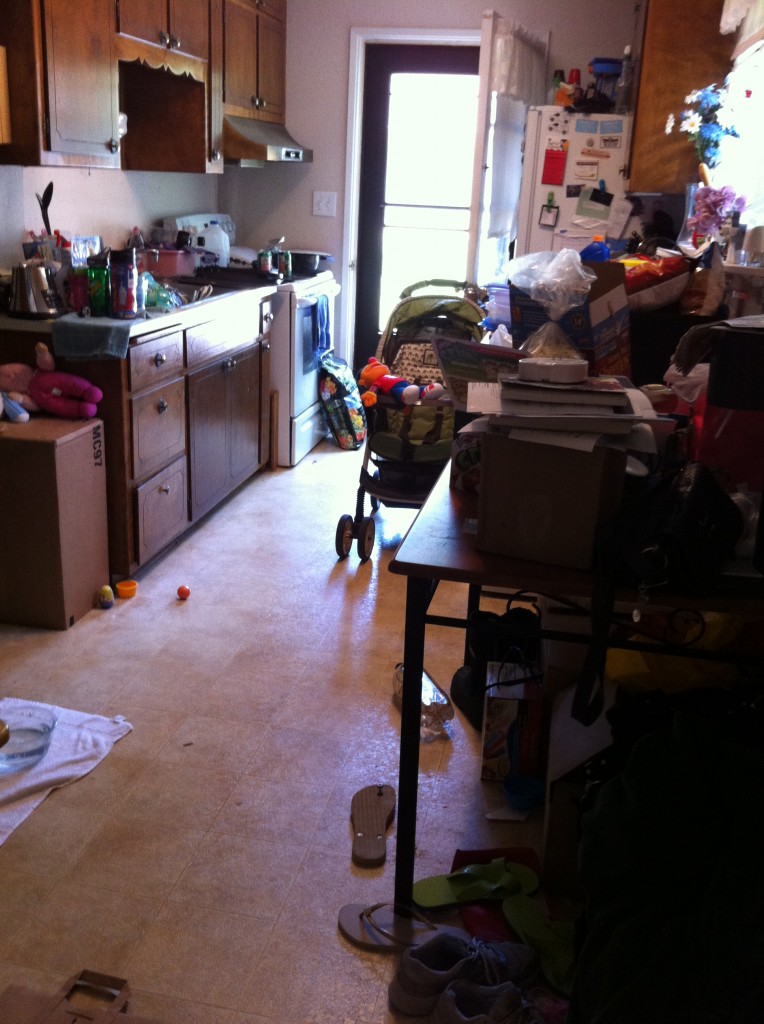 We used to have a small table pushed up against a wall, but it just became a dumping ground for clutter. Chairs were in the way when trying to walk through to the living room. And if you sat in a chair, well, there was no getting around you! One of our first steps in trying to get the kitchen under control was to ditch the table (we don't eat at it anyway) and replace it with a couple pantry cabinets.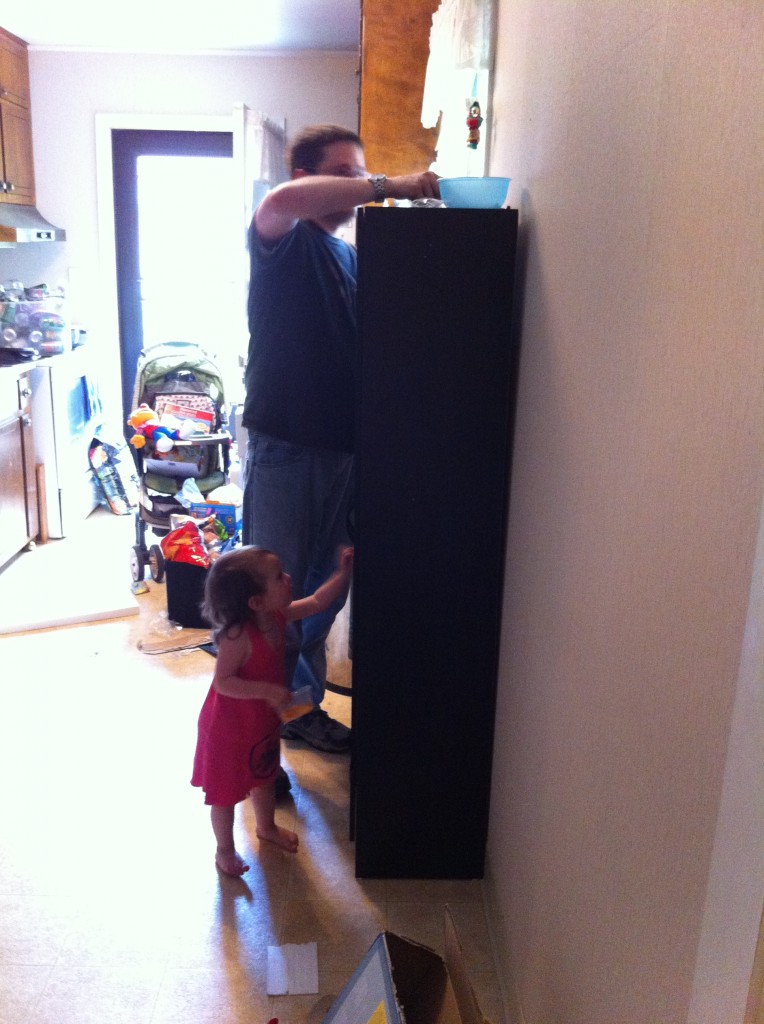 Our house was built in the 1950s, I believe, and their dishes must have been much smaller in size. Our cupboards and cabinets seem too small and crowded, and there is barely any counter space as I mentioned before. We do have a portable dishwasher that sometimes offers more space, but it's usually a dumping ground for mail and such. When it's rolled across the kitchen and hooked up to the sink, it's hard to squeeze around it to get to the fridge.
I'm still working out how to best organize our pantry food and it's constantly a work in progress. I hate how if things get buried behind others, I forget about them. Out of sight, out of mind. Plus, I'm too short and hate trying to use the shelves beyond my reach. In my lower cabinets I have way too many mixing bowls, glass baking dishes and plastic storage wear. Oh good lord I have way too much "tupperware" (I think only like 3 pieces are true Tupperware). Rissa likes playing with them though, but I need to sort through them. It's out of control.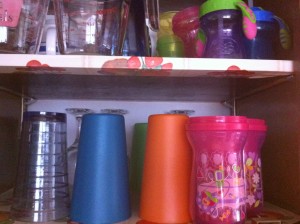 What else is out of control is our glasses/cups cabinet. It is overflowing with sippy cups! They don't stack  and since we have a couple different brands and stages, they take up way too much room. They are crowding out our other cups! I've been hoping for something to help me keep all the pieces together better and make the cup chaos manageable. When I found the Universal Baby Bottle and Sippy Cup Organizer I crossed my fingers that it would work for us.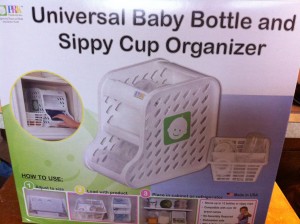 It sounded great because it's Made in America, works with around 30 different brands of cups and bottles, is adjustable, and is made of safe plastic (BPA free). It has three adjustable widths making it easy to accommodate smaller bottles as well toddler sippy cups without needing to buy something separate. Most of our toddler cups are Tommee Tippee ones, which Rissa and I both like, so I was happy to see they were one of the tested brands for fit.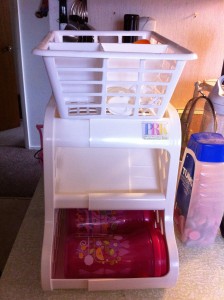 It's super easy to adjust, but it was either too wide or just a tad too snug for our cups (without the lids on). I placed the lids and valves in the basket that comes with it. I couldn't add cups in through the top, so I was trying to push them back into the dispenser. The box says it holds up to 12 bottles or cups, but with our size cups it only fit 6. We have more than 6 cups, but usually only about that many are clean at a time! It seemed to work best when I filled it with all one type of cup, so I don't know what to do about the other ones.
Our cupboards are too small so I couldn't fit it onto a shelf. It's currently taking up precious counter space until I can figure out another solution. I like that the cups aren't falling over and out of the cupboard, but it's not quite working for our kitchen and cups. I think it'd be good way to store bottles though. We hardly use bottles, but when we did, it was worse than the cups!
I don't know… maybe I'm destined to always have a cluttered kitchen I can't control. How do you keep things organized?
_____
Disclosure: We received a Universal Baby Bottle and Sippy Cup Organizer for review.
Subscribe
Get weekly sanity saving parenting tips, recipes, and kids activities.