The Lasagna Taste Test Challenge
One of my favorite comfort foods is lasagna. I love pasta but there's something about the meaty cheesy goodness of lasagna that I find completely satisfying. (Heck, I'll even eat a cheese and mushroom lasagna or a veggie lasagna.)
I might be biased, but I think the lasagna I make (a totally basic recipe) is pretty tasty. But sometimes…it's just easier to pop a frozen one into the oven or the microwave. Until recently I didn't really compare the frozen options. I was familiar with a couple well known brands but hadn't heard of Michael Angelo's. So when our family was challenged to a taste test we happily accepted!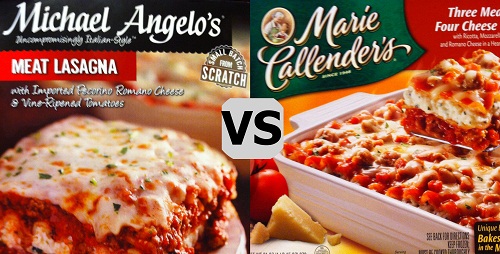 I mean, how torturous to expect us to eat a couple lasagnas, right? We couldn't eat them both in one night so we made one then a week later made the other. We didn't think there would be much of a difference, in all honesty, but there was quite a difference.
The first noticeable difference was the ingredient list on the box. While we are not strict on eliminating processed foods and such from our diets, I do prefer ingredients I can pronounce! (And ingredients similar to what I would actually use.)
The next noticeable difference was their appearance after baking. (Please forgive my orange plate…. it looked much better in reality!)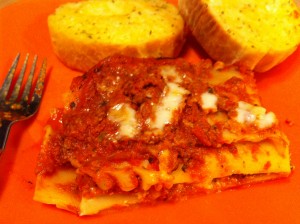 And finally the taste!
The one that tasted the best had the most natural ingredients…was the closest to my own recipe. The aroma was enticing and the texture and flavor were pleasing. I could tell I was getting a forkful of noodle, cheese, meat, and even ricotta cheese. Michael Angelo's won this round! And I must say, I love Michael Angelo's stance on their "naturally Italian" ingredients:
If you can't find it in our mom's kitchen, you won't find it in our meals.
I wanted to try a blind taste test but it was hard for me to set it up. We definitely enjoyed Michael Angelo's more. Their lasagna tasted the closest to what I make at home (though fresh is always going to win, right?) and was good as leftovers too. The other one… I never noticed before how sweet it tastes before. Sometimes the differences aren't as obvious if you aren't looking for them.
How would you have conducted your taste test?
______
Disclosure: We were provided with a gift card to purchase Michael Angelo's lasagna and our choice of a competitor. All thoughts shared are my own based on my taste buds.
Subscribe
Get weekly sanity saving parenting tips, recipes, and kids activities.