The Continuing Saga of My Back
Have you been wondering why it's been a little quiet around the nursery lately? Well, blame my back. Something is definitely not right with it! I know I promised to go in for a follow up after my ER trip but I've been a bit slow at making that appointment.
Believe me, I'm regretting that very much right now. My house is proof: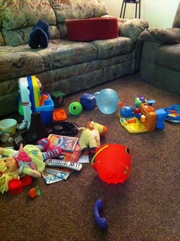 Okay so the living room often looks like that but it's even worse than normal.
Thursday night I had another episode. I'm thinking back spasm just might be it. My back started hurting during Primetime Party and I've been basically out of commission since then.
I tried ibuprofen, heating pad, cold compress, massage, Epsom salt solution…. I've been in so much pain. I thought I was beating it Thursday night but I still ended up throwing up in the muddle of the night. When I woke up (late) on Friday I felt better but sore. I tried to tackle some blog stuff but it didn't take long before it re-agitated it.
I figured I'd lay down for a few hours watching Glee and be good as new in the evening.
Nope.
It went through waves and dealing with a child that doesn't know how to sit still and climbs makes it easy to jar my back over and over again.
So I'm very behind on email (over 500 unread – includes comments and other notifications), on checking my FB groups (emails turned off), following up with contributor applicants, logging incoming review items, and writing posts. I've been playing catch up after the last 2 attacks so I haven't been able to schedule too much in advance. (Yes, what you see on any given day was mostly prepared the day before!). My system works but only without unexpected time off!
I still don't know the cause but when it starts, I can't seem to stop it. It's happening more frequently, with a quicker and more intense onset and lasting longer. Even now my back is tender. I'm terrified of setting it off again.
Monday I go in to see a doctor. Let's hope they have sone answers! (And answers that don't involve medicines dangerous for breastfeeding moms to take…)
Subscribe
Get weekly sanity saving parenting tips, recipes, and kids activities.