TFTN's 2012 Holiday Gift Guide Submissions
We've already started to receive requests for inclusion in this year's holiday gift guide. To help streamline the process for those interested, we have now set up a submission request form. The guide will be posted mid-October with continuous additions throughout the holiday shopping season. Last year our holiday gift guide was well received by our readers, so we hope to help them with their holiday shopping again this year! For the items we linked with Amazon we saw an increase in purchases through our site.
We plan to tweak our gift guide set up a bit, but here are a couple snap shots of how it was organized: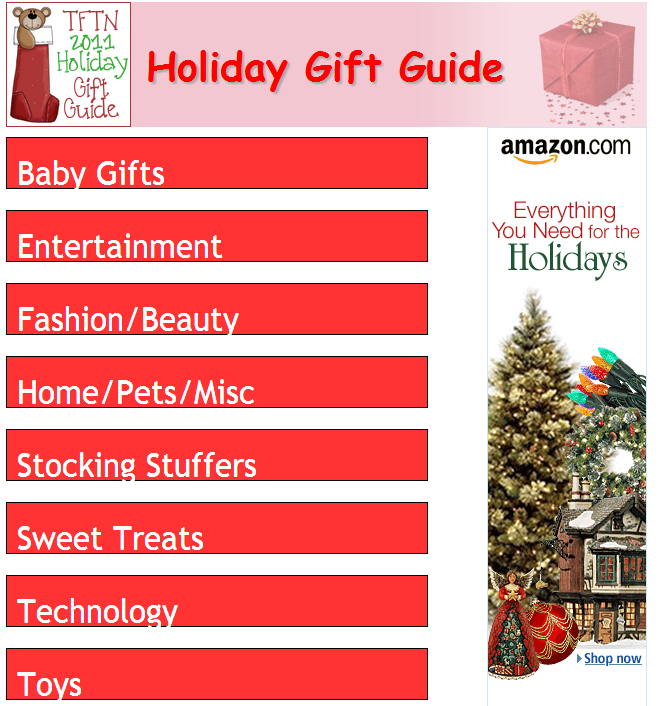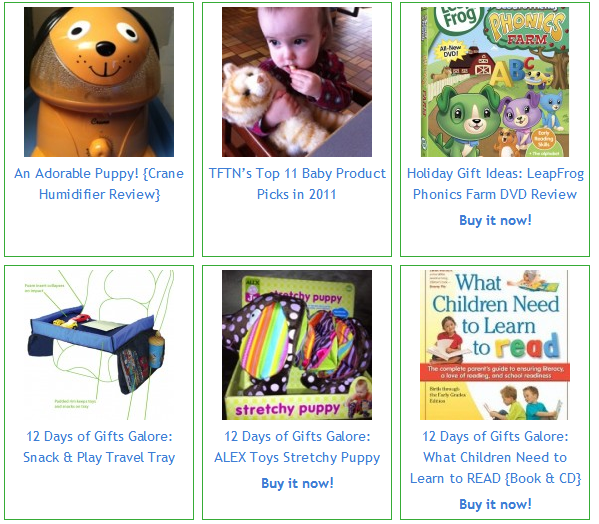 This year we will be categorizing gift ideas based on recipient:
Gifts for Babies and Toddlers (0-4)
Gifts for Children (5-12)
Gifts for Teens
Gifts for Mom
Gifts for Dad
Gifts for Any Family Member
Promotion Offered (including but not limited to):
Please note that due to the work and promotion involved in our gift guide we are requiring a product minimum of $50 or a fee.
Holiday Gift Guide will appear in our Featured Slider and on our menu
A link to a post featuring your product (may or may not be an exclusive review post based on our content calendar and agreement), an image, and a direct order link. Discount codes may be offered as well.
Each post will be posted to Twitter
Select posts will be shared on our Facebook fan page and/or personal profile
Pins to our holiday guide pinterest boards
Once a week until 11/25, the gift guide and/or categories will be tweeted out
From 11/25 through 12/15 there will be daily promotional tweets at staggered times selected from the gift guide (specific products, category or the general guide link)
From 11/25 through 12/15 we will do highlight posts of the gift guide on the blog and Facebook as appropriate
You may choose to include a giveaway prize in our 2nd annual 12 Days of Gifts Galore giveaway event or we can discuss other giveaway arrangements
Reserve Your Spot – Submit a Holiday Gift Guide Request
We are offering several options for participation, but will be limiting the number of reviews posted to give your product better exposure. So please fill out the form to reserve your spot today! If you would prefer to email me, you may do so at darcyzalewski@gmail.com, but the form will help our communication stay organized.
Subscribe
Get weekly sanity saving parenting tips, recipes, and kids activities.