I swear my house was never this messy until I became a mom. From the day Rissa came home, she has helped to generate more messes and trash than I thought possible. It was even worse when we were using disposable diapers in her newborn days. Our trash literally DOUBLED until I switched to cloth diapers. At least most of the time the house is just cluttery, but goodness, when we do big clean ups….
When we entertain, we try to tackle tidying up for a few days prior, but most of the cleaning waits until a few hours before our guests are due to arrive. Why? Because otherwise we're just re-cleaning up after Rissa a gazillion times until party time! It's a bit stressful and rushrushrush to wait to clean before guests come, but Brian and I have gotten pretty efficient at it.
Shhh, a lot of that "clean up" consists of moving toys and random stuff into other rooms and closing the door.
Not too long ago I showed you my struggles with a small kitchen. Big clutter mess, right?
Well, this is how my living room often looks before we have guests over…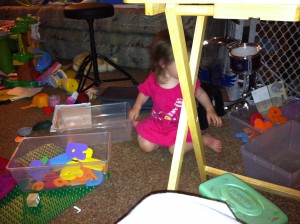 Okay so this isn't the worst it has been. But it's the messiest picture I could find since it's relatively tidy right now!
But then after a quick clean up it looks like this….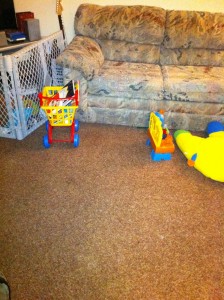 I wish I could keep it this way all the time! But it's nearly impossible to do so with a toddler. And soon I'll have a second one helping to make messes! Oh well, my kids are happy, right?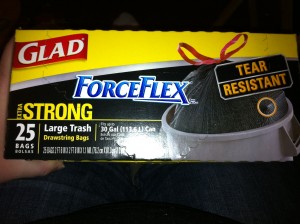 Sometimes when we're cleaning up fast we have to stuff toys away in boxes or garbage bags just for the sake of speedy pick up. Mainly we only use garbage bags for, well, garbage: kitchen, bathroom, nursery, and cat box clean up. Our preferred trash bags are Glad's ForceFlex bags. They can hold quite a bit without tearing. Too many other bags have ripped at inconvenient times for us (like when coming up the basement stairs with a bag full of dirty cat litter).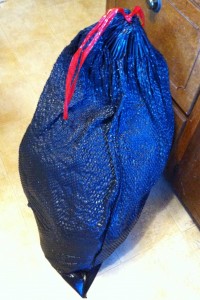 Not feeling motivated to conquer the mess your kiddo just made out of that box of facial tissue? Relax for a few and check out the Glad "After the Wild Life" Facebook Tab. Take a moment to  'Like' the page and play the 'Missing in the Mess' game as well! 
What's the wildest mess you've found in your house?
______
Disclosure: I participated in a campaign on behalf of Mom Central Consulting for Glad. I received products to facilitate my review as well as a promotional item as a thank-you for participating.
Subscribe
Get weekly sanity saving parenting tips, recipes, and kids activities.