Ahh, summer. Hot days. School's out. Kids will be outside playing sports, riding bikes, and running around. When it's warm out we need to be extra careful to increase our fluid intake. Dehydration is dangerous for children, pregnant mamas, and everyone, really. It's ideal to have water handy. I know that I'm more likely to drink enough water if I have easy access to it. Unfortunately, it can be awkward to carry a bottle while running and biking riding.
Enter Swiggies wrist water bottles by Hydrosport!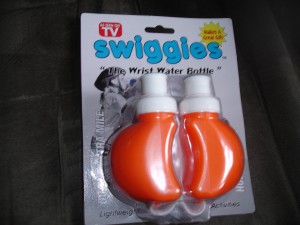 Swiggies provides a hands-free way for kids and adults to have water with them. Holding 8 ounces of water, which is equivalent to one glass of water, Swiggies easily attaches to your child's wrist. You can use your mouth to open the pull up top and take a drink. This is certainly safer than trying to use a water bottle while riding their bikes. The kid Swiggies come in 6 bright and fun colors. The adult Swiggies hold 11 ounces of water, which is a decent amount to have during a workout. The come in 3 colors.

Although I kept referencing water, you could also put a sports drink in them. Anything that will assist with rehydration! Swiggies can be put in the freezer too. This is especially nice on a super hot day. The cold against your wrist will help cool your body and you'll have cold water to drink as it melts. They are made from easy to recycle plastic. Although they are reusable water bottles, it's good to know they can be recycled after they're no longer usable. They are also BPA-free, FDA approved safe, and approved by Child Safe International as a safe, eco friendly product. The wrist bands can be washed by hand or gentle cycle too.
I gave these Swiggies to my nephews. They love sports and riding bikes. They get so caught up in what they are doing it can be hard to make sure they are drinking enough! They easily fit their wrists. I was surprised that the child size even fit my wrist (my wrists are kind of small) and could be put on one handed. Neither the velcro nor the band bothered my wrist and there was still some room. I definitely hope my nephews get a lot of good use out of these!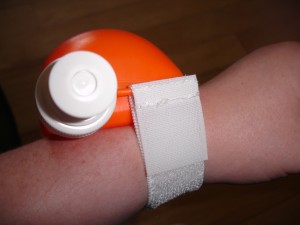 I actually have this one on the wrong arm. The mouth piece should be closer to my hand, but being right handed, it was awkward for me to take the picture the other way and my sister-in-law was checking out the other one. This is why they come in pairs! One that can be worn on each arm.
Swiggies is sponsoring two sets for one of our Blog Bash 2011 prize packs!
Connect with them on their website Swiggies.com!
____
** FTC Disclosure: I received the product(s) mentioned above free of charge by the company or PR representative in order to conduct an honest review. I was not compensated in any other way for this post. The thoughts, experiences, and opinions included are entirely my own and may differ from that of others. I am not liable for any issues you may incur from use of said product(s). Images used are owned by me or provided with the company's permission unless otherwise sourced. See full disclosure information. If you have any questions you can contact me or leave a comment.
Subscribe
Get weekly sanity saving parenting tips, recipes, and kids activities.