Sip 'N Go Reusable Water Bottle Review
Since I got pregnant with Rissa last year, I started drinking a lot of water. I was a big soda drinker before that. I don't much care for the taste of our water straight out of the tap though. I'm bad because I like bottled water. I know this is not the most eco-friendly option. I do try to buy the ones made out of recycled bottles and, of course, recycle my bottles. I've tried other reusable water bottles, but they either make the water taste funky or I'm not sure they are BPA free.
Besides the taste (I really can taste a difference… I think it's more about the filtering system or something…) I like how it's easy to carry a bottle along when I'm running errands, working out, or walking. So, if I could have a reusable water bottle that's easy to use, doesn't alter the taste of my water, and travels well… I'd be happy!
Guess what? I'm happy to present to you the Sip N Go reusable water bottle from Elevate…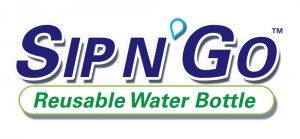 This flexible water bottle, free of harmful chemicals like BPA, is small enough to fit in the palm of your hand and is super lightweight, which makes it easy to carry. This cool, brightly colored water bottle holds 500 mL/17 oz of liquid, and features a comfortable carrying ring and carabineer to clip it on your backpack or gym bag, durable snaps to make rolling up convenient, and an identifier where you can write your name to make it your own. Dishwasher safe, freezable, BPA free.
Yay! This water bottle can go in the dishwasher on the top rack. I washed it like that before using it and it came out just fine. I did have to put the mouthpiece and cap in my caddy that I use for keeping track of small pieces. (It was marketed for baby bottle nipples, straws, utensils, etc.)  It's easy to fill up and open the mouth piece. The hook that it comes with is great for clipping it onto the diaper bag or even a belt loop. I like being able to fold it up and snap it to stay folded up when it's empty. Easy to stick inside the diaper bag! Or the glovebox in my car… or a back pocket.
To test the taste, I filled it up and stuck the bottle in my freezer. It stayed there for about a day. It was fine – no splitting or anything. Then I put it in the fridge to defrost. It sat there for another day or so before I drank out of it. It tasted fine. It didn't taste as fresh as… well, fresh, but it was way better than my other reusable bottles! Oh! And while filled, it stands ok on it's own. Sometimes the bags that open to "stand" don't quite do so, but this one does.
The only two things I was unsure of was the actual amount it can hold. It says 17 oz of liquid, but I couldn't get an entire water bottle poured into it (hey, I went the pre-measured amount route). I got most of it in but not all and the bottle I had was just under 17 oz. It may have been because I didn't unfold and open it up all the way first. I didn't overflow it either. The other thing was I couldn't get the plastic zip tie from the package off from around the mouth piece. I don't have a pair of scissors that can get in and cut it and I didn't want to risk mangling the cap. It works fine with it on. These two things wouldn't turn me off from buying it.
Giveaway over
______
** FTC Disclosure: I received the product(s) mentioned above free of charge by the company or PR representative in order to conduct an honest review. I was not compensated in any other way for this post. The thoughts, experiences, and opinions included are entirely my own and may differ from that of others. I am not liable for any issues you may incur from use of said product(s).
Subscribe
Get weekly sanity saving parenting tips, recipes, and kids activities.